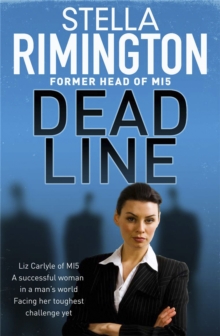 Description
MI5 Intelligence Officer Liz Carlyle is summoned to a meeting with her boss Charles Wetherby, head of the Service's Counter-Espionage Branch.
His counterpart over at MI6 has received alarming intelligence from a high-placed Syrian source.
A Middle East peace conference is planned to take place at Gleneagles in Scotland and several heads of state will attend.
The Syrians have learned that two individuals are mounting an operation to disrupt the peace conference in a way designed to be spectacular, laying the blame at Syria's door.
The source claims that Syrian Intelligence will act against the pair, presumably by killing them.
No one knows who they are or what they are planning to do.
Are they working together? Who is controlling them? Or is the whole story a carefully laid trail of misinformation?
It is Liz's job to find out. But, as she discovers, the threat is far greater than she or anyone else could have imagined.
The future of the whole of the Middle East is at stake and the conference deadline is drawing ever closer.
Information
Format: Paperback
Pages: 384 pages
Publisher: Quercus Publishing
Publication Date: 01/05/2009
Category: Espionage & spy thriller
ISBN: 9781847247896
Free Home Delivery
on all orders
Pick up orders
from local bookshops
Reviews
Showing 1 - 2 of 2 reviews.
Review by picardyrose
16/06/2015
Matter-of-fact and unexpected.
Review by Philogos
16/06/2015
This is the third (and worst) Liz Carlyle novel I've read. As such, I was expecting the cardboard characters and the author's close identification with her protagonist. Liz Carlyle is clearly perfect - or perhaps she is how the author would see herself in an ideal world, complete with a hero (heroine?) worshipping acolyte, an idealised boss and a load of untrustworthy and self-seeking colleagues.I was, however, taken aback this time by the apology for a plot and the complete lack of consistency and motivation with extraneous and contradictory plot lines and loose ends never tied up. The following questions might constitute spoilers, so stop here if that worries you:1. Having met the villain, why does Liz not recognise him in the garden?2. Why on earth does he try to run her over with a car?3. How can he be sitting next to himself at the cricket?4. Why does he disappear at the airport when there is no need to and it jeopardises his entire plan?By the way, the plot is so convoluted and obscure that I could have got the wrong end of the stick regarding any or all of the above and my wife threw the book away in disgust so that I can't check unless I waste money on a new copy.Perhaps the most worrying aspect of this whole book is the fact that it purports to have been written by the ex head of MI5. If this is the intellectual level of the secret service, no wonder they seem to stumble from catastrophe to disaster. We should be afraid for the future of civilisation. Very afraid.