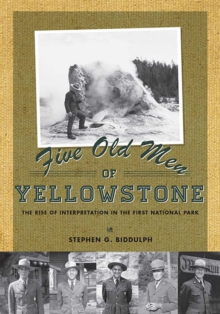 Five Old Men of Yellowstone : The Rise of Interpretation in the First National Park
Paperback / softback
Description
Yellowstone has undergone a number of transitions in the 140 years since its national park designation in 1872.
The period from the late 1930s to the early 1970s marked one of the most significant as the Park Service shifted focus from mere public recreation to interpretation and education.
The vast wilderness and numerous awe-inspiring natural spectacles of the park became less objects of passive enjoyment and more subjects to be engaged, interpreted, and understood by visitors.
The park was transformed from a playground into a classroom where active learning processes could take place.
Charged with instituting these interpretive interactions were five remarkable ranger naturalists who served as both protectors and educators.
Stephen Biddulph tells the story of the five men, his own father amongst them, tasked with inspiring a generation of visitors to the park.
Biddulph's masterfully woven narrative-part biography, part historical narrative-offers both fascinating historical detail about Yellowstone and charming colloquial story telling.
The interpretive initiatives of the rangers-nature walks, campfire programs, game stalks, and auto caravans-are enlivened by the colorful personalities of the five men who conducted them.
A narrative shared with humor and sentiment makes for an accessible book that will be enjoyed by park history buffs and curious visitors alike.
Historians will find the work provides a missing link in the park's extensive literature.
Information
Format:Paperback / softback
Pages:336 pages
Publisher:University of Utah Press,U.S.
Publication Date:30/08/2013
Category:
ISBN:9781607812463