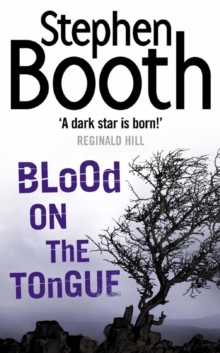 Blood on the Tongue
Paperback
Description
Guilt, sacrifice and redemption in a freezing Derbyshire winter in this tense psychological thriller from the acclaimed author of `Black Dog'. 'The sun had dropped over the edge of Irontongue Hill so that the snow-covered moor was in shadow ... but Marie Tennent would never see the dawn.' Marie's was not the only body lying undiscovered under the Peak District snow that January morning - nor the first.
In 1945, the wreckage of a bomber was found on the Hill, full of dead crewmen.
The missing pilot was declared responsible, but why would a decorated hero desert?
The only other survivor refuses to talk. A young Canadian woman has arrived to uncover the truth - the pilot was her grandfather.
DC Ben Cooper is intrigued. Perhaps he can help? To his boss DS Fry, investigating two frozen bodies found on the moors, her colleague's interest is entirely unprofessional.
But the past has a way of influencing the present and before either knows it, a long-cold trail in the dead of winter has grown dangerously hot ...
Information
Format: Paperback
Pages: 640 pages
Publisher: HarperCollins Publishers
Publication Date: 01/04/2003
ISBN: 9780007130665
Free Home Delivery
on all orders
Pick up orders
from local bookshops
Reviews
Showing 1 - 2 of 2 reviews.
Review by bhowell
16/06/2015
Cooper and Fry investigate two seemingly unrelated murders but the answer lies deep in the past. In 1945 an RAF bomber crashed on Iron tongue Hill and the missing pilot was declared a deserter. His granddaughter from Canada appears seeking the assistance of the police in finding out what really happened. A diverting read.
Review by bsquaredinoz
16/06/2015
A Canadian woman asks the police of England's Peak District for assistance into the investigation of the war-time crash of an air craft in the area. Her grandfather had been the pilot but had disappeared from the accident site and never been seen in the 57 years years since the night of the crash. Of the remaining crew only one person, a Polish man, survived and is still in the area today. The police hierarchy refuses to assist the Canadian because they're busy. A man's body has been cut in half by a snow plough, another man's been beaten up and, although they don't know it yet, a young woman has died in the snow too. However DC Ben Cooper is intrigued by the Canadian's quest and, almost against his own will, becomes involved in investigating the story. His boss, DS Diane Fry, is angry at him about that.<br/><br/>As I mentioned the other day, this book dragged for me. Seriously dragged. Every person's clothes, every building, every location seemed to be described in minute, unnecessary detail. It soon became impossible to tell which people and events were crucial to the story because every body and every thing was given the same detailed introduction. And then there were the tangents. For example at one point a character notices a police car has the force's website address written on it which is followed by a long description of what one would find on the website. None of which is even remotely relevant to the story. Alone this example wouldn't bother me but it is one of dozens of such tangents that detracted from the flow of the narrative and turned what should have been an interesting story into a directionless amble. At one point Police realise that the woman who died in the snow probably had a baby but they don't seem to put much effort into locating the child, or at least no more than they do for anything else, which seems highly improbable to me.<br/><br/>I don't think this is an issue of length or pace. I have loved longer books and slower ones. This is an issue of storytelling where knowing what to leave out is as important, if not more so, as what is included. For me anyway story telling is about being taken on a journey and here I felt as if I'd been dropped in the middle of a forest and had to find my own way out without the benefit of a compass or the ability to leave a breadcrumb trail. I found my way out in the end but I'd taken so many wrong turns I'd lost interest in the outcome.<br/><br/>I did like Ben Cooper who is a far cry from the alcohol-addled, ex-wife trailing cop so prevalent in crime fiction. His introspection and somewhat naive outlook were refreshing and the way he and his experiences were used to explore themes of family and community was first rate. There appeared to be some kind of unresolved issue between him and Diane Fry but I really couldn't work out whether it was professional or personal (it seemed to be both at different times). Perhaps this is explained more in the first two books in this series which I haven't read. Regardless, I neither liked Fry nor found her particularly credible but I really can't explain why.<br/><br/>I really wanted to like <i>Blood on the Tongue</i> as Booth's books have been recommended by many people whose tastes I trust. Although I did enjoy meeting Ben Cooper I didn't enjoy it enough to make me come back for more so this series is one I'll just have to agree to disagree about.<br/><br/>
Also in the Cooper and Fry Crime Series series | View all