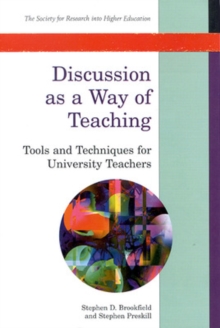 Discussion As A Way Of Teaching
Paperback / softback
Description
This book is written for all university and college teachers interested in experimenting with discussion methods in their classrooms.
Discussion as a Way of Teaching is a book full of ideas, techniques, and usable suggestions on:* How to prepare students and teachers to participate in discussion* How to get discussions started* How to keep discussions going* How to ensure that teachers' and students' voices are kept in some sort of balanceIt considers the influence of factors of race, class and gender on discussion groups and argues that teachers need to intervene to prevent patterns of inequity present in the wider society automatically reproducing themselves inside the discussion-based classroom.
It also grounds the evaluation of discussions in the multiple subjectivities of students' perceptions.
An invaluable and helpful resource for university and college teachers who use, or are thinking of using, discussion approaches.