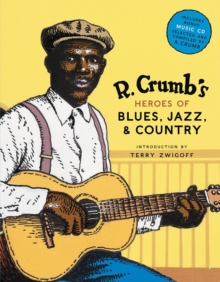 R.Crumb's Heroes of Blues, Jazz and Country (with CD)
Hardback
Description
For over three decades R. Crumb has shocked, entertained, titillated and challenged the imaginations (and the inhibitions) of comics fans the world over.
The acknowledged father of "underground comix," Crumb is the single greatest influence on the alternative comics of today.
The three companion sets of trading cards - Heroes of the Blues, Early Jazz Greats, and Pioneers of Country Music - have all been sought by collectors.
Although, they are currently back in print as individual card sets, this is the first time they are being published together in book form.
A biography of each musician is provided, along with a full colour original illustration by underground cartoonist and music historian R.
Crumb.
Information
Format: Hardback
Pages: 240 pages, 112 colour images
Publisher: Abrams
Publication Date: 26/09/2006
Category: Jazz
ISBN: 9780810930865
Free Home Delivery
on all orders
Pick up orders
from local bookshops
Reviews
Showing 1 - 4 of 4 reviews.
Review by liquidgiraffe
16/06/2015
Fantastic collection of Crumb's "trading card " series of famous recording artists of the twent sand thirtys. The CD contains recorded examples of the music that those pictured were famous for...A great book.
Review by blueslibrarian
16/06/2015
This delightful little book collects reprintings of collectible cards that the comic R. Crumb drew in the 1980's. Crumb is a longtime collector and aficionado of early 20th century American music, and this drawings with very brief biographical accompaniment make a colorful statement about the characters that built American music.
Review by janeajones
16/06/2015
I was about to wrap this as a Christmas gift for my son and was lured into the pages. R. Crumb's Heroes of Blues, Jazz & Country is an illustrated compendium of America's early 20th musicians. R. Crumb started to draw and paint the musicians and bands for trading cards that would be included with LP recordings reissued (from pre-WWII 78s) by Yazoo Records. Eventually they were boxed into a set sold by record stores. This book reproduces the paintings along with biographical sketches of the artists and bands. While I appreciate the music of this era, I am certainly not an expert, or even a student, of the music. That said, I found the text fascinating (especially the highly descriptive information on Country String bands of which I knew nothing), and Crumb's illustrations evoke the period and whet an appetite for more. The text is by Stephen Calt, David Jasen and Richard Nevins.The book is accompanied by a 21 song CD with recordings from 1927-1931, I can't comment on these since breaking into the CD pack would spoil the newness of the gift,The book definitely whet my taste to learn more about the musicians of the era.
Review by MaowangVater
16/06/2015
Three sets of cards: Heroes of the Blues, Early Jazz Greats, and Pioneers of Country Music first published in the 1980s by Yazoo Records/Shanachie Entertainment are reproduced in this compilation. The Blues and Country sets were drawn in Crumb's distinctive style and then colored. The Jazz set was painted by him. The portraits taken from existing photographs represent the musical passions of Crumb. The accompanying notes by Calt, Jasen and Nevins give brief information about the musicians, their careers, influences, playing styles and when available their birth and death dates.
Also by Stephen Calt