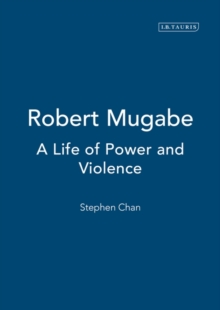 Robert Mugabe : A Life of Power and Violence
Paperback
Description
This study asks: is Robert Mugabe the Stalin of modern Africa? Or is he a patriot fighting to reverse the effects of colonialism and white domination?
Stephen Chan seeks not to demonize Mugabe, but to explain and interpret him in his role as a key player in Zimbabwe and Southern Africa.
This portrait describes Mugabe's character over 22 years of his rule.
Chan shows how Mugabe's story is Zimbabwe's - from the post-independence hopes of idealism and reconciliation to electoral victory, the successful intervention in the international politics of Southern Africa and the resistance to South Africa's policy of apartheid.
He describes how a darker picture emerged early, with the savage crushing of the Matabeleland rising, the elimination of political opponents, growing corruption and disastrous intervention in the Congo war, all worsened by drought and the HIV / AIDS crisis.
As a beleaguered President in the face of growing unrest, Mugabe resorted to desperate measures - seizing white-owned farms, increasing Presidential powers, muzzling the press and intimidating any opposition. Chan's narrative, based on close personal knowledge of Zimbabwe, depicts the emergence of a ruthless and single-minded despot amassing and clinging to political power.
He shows how the triumphant nationalist leader who reconciled all in the new multiracial Zimbabwe degenerated into a petty tyrant consumed by hubris and self-righteousness and now facing an endgame of tragic dimensions.
Information
Format: Paperback
Pages: 256 pages, Illustrations
Publisher: I.B.Tauris & Co. Ltd.
Publication Date: 24/10/2002
ISBN: 9781860648731
Free Home Delivery
on all orders
Pick up orders
from local bookshops