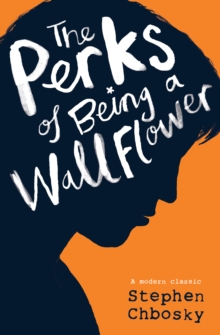 The Perks of Being a Wallflower YA edition
Paperback
Description
Shy, introspective, intelligent beyond his years, caught between trying to live his life and trying to run from it, Charlie is attempting to navigate through the uncharted territory of high school.
The world of first dates and mixed tapes, family dramas and new friends.
The world of sex, drugs, and music - when all one requires to feel infinite is that perfect song on that perfect drive.
Standing on the fringes of life Charlie has a unique perspective of the world around him, but there comes a time to stop being a wallflower and see what it looks like from the dance floor.
This haunting novel about the dilemma of passivity vs. passion has become a modern classic. Charlie's letters are singular and unique, hilarious and devastating and through Charlie, Stephen Chbosky has created a deeply affecting story that will spirit you back to those wild and poignant roller coaster days known as growing up.
Information
Format: Paperback
Pages: 240 pages
Publisher: Simon & Schuster Ltd
Publication Date: 30/08/2012
Category: General
ISBN: 9781471116148
Free Home Delivery
on all orders
Pick up orders
from local bookshops
Reviews
Showing 1 - 3 of 3 reviews.
Review by HenriMoreaux
16/06/2015
A thoroughly enjoyable book with a hearty laughs.
Review by Jessica_Saint
16/06/2015
I read this book in one afternoon; I haven't had a book like this in years.<br/><br/>Unlike Harry Potter and Twilight, this book probably won't appeal to the masses. It's not conventional, fluffy and harmless; it is raw, ambiguous and emotional. That is why it appealed to me so much (Yet those features are what pushes so many readers away).<br/><br/>This is one of my favorite books of all time. I can't explain this beyond the fact that I could truly identified with the main character in many ways. Whether or not others will identify depends upon their life experiences, and perhaps their taking to the writing style.<br/><br/>I haven't much else to say. <br/><br/>Go and read it.
Review by MyExpandingBookshelf
16/06/2015
So I admit, this took a lot longer for me to read than I originally planned. But hey! life caught up with me and I had job interviews and such to prepare for. And then when I finally sat down to get some reading down Robert Downey Junior (Iron Man) was on TV so I just had to watch that!I loved this book! It had me almost in tears in places and then grinning away to myself in other places. I got some strange looks from my family whilst reading this one! I really love Charlie, he has such an innocent quality to him yet is also obviously quite troubled and you can tell he has been through trauma. He also has this adorable need to be a friend to every one and wants to put their need first. He's just very likeable to me. I also really liked Sam and Patrick. They tried really hard to get Charlie to come out of his shell and introduced him to new experiences. I think this makes them really good friends to have for someone like Charlie to have. Although of course their friendship isn't without the drama that comes with being at high school so this makes them more real to me.The Perks of Being a Wallflower is not made up of normal chapters exactly. Instead it consists of Charlie's letters to a "friend" and is split into four parts. I thought this was a very clever format even though the story occasionally veered off on a tangent. But who doesn't go a tad off the subject when talking/writing to a friend. For me, this just added more character to Charlie.Basically, the book is about Charlie starting High School and meeting new friends. Something we can all relate to, even if the schooling system is slightly different to what I went through (i.e. here High School starts at age 12, I didn't have separate Middle School and High School). I would urge anyone who hasn't read The Perks of Being a Wallflower to read it. It is now one of my favourites.