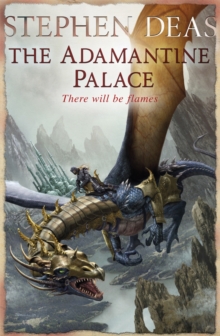 The Adamantine Palace
Paperback
Description
Praised by Joe Abercrombie and Brent Weeks alike - the dragon fantasy that heralded the arrival of an exciting new talent on the fantasy sceneThe Adamantine Palace lies at the centre of an empire that grew out of ashes.
Once dragons ruled the world and man was little more than prey.
Then a way of subduing the dragons through alchemy was discovered and now the dragons are bred to be mere mounts for knights and highly valued tokens in the diplomatic power-players that underpin the rule of the competing aristocratic houses.
The Empire has grown fat.And now one man wants it for himself.
A man prepared to poison the king just as he has poisoned his own father.
A man prepared to murder his own lover and then bed her daughter.
A man fit to be king?But unknown to him there are flames on the way.
A single dragon has gone missing. And even one dragon on the loose, unsubdued and returned to its full intelligence, its full fury, could spell disaster for the Empire.
But because of the actions of one unscrupulous mercenary the rivals for the throne could soon be facing hundreds of dragons ...Stephen Deas has written a fast moving and action-fuelled fantasy laced with irony, a razor sharp way with characters, dialogue to die for and dragons to die by.
Information
Format: Paperback
Pages: 400 pages
Publisher: Orion Publishing Co
Publication Date: 01/01/2010
Category: Fantasy
ISBN: 9780575083752
Free Home Delivery
on all orders
Pick up orders
from local bookshops
Reviews
Showing 1 - 3 of 3 reviews.
Review by Carpe_Librum
16/06/2015
After watching the Lord of the Rings movies in a massive movie marathon, I was inspired to introduce some fantasy books to my repertoire. 'The Adamantine Palace' is a story of dragons and humans living together in a different world consisting of many Queens and Kings of the different 'realms'.After a somewhat slow start, the book took an exciting turn when one of the dragons starts communicating with the humans. The story really picks up here, and I thoroughly enjoyed the drama, conflict and the secondary plot featuring court plotting, lust and deception. I also enjoyed the description of the diamond palace, and found myself imagining how this could be depicted on the big screen.I couldn't help but side with the plight of the dragons, led by the pure white dragon 'Snow' and would be interested in reading a sequel.
Review by salimbol
16/06/2015
A quick, enjoyable enough read, but the thin characterisations (not helped by the author's habit of killing off characters and shifting to viewpoints of less-established characters) and the simplistic nature of the political intrigues weren't terribly impressive.
Review by wyvernfriend
16/06/2015
I could see where he was going with the story. What if Dragons had been the top of the chain, then humans discovered a way of pacifing them and one got free and managed to get their mind back. What if these dragons were like phoenixes, reincarnating over and over and remember the years of servitude and humiliation. What if she decided to get revenge? This is that book, with a side order of human politics and politicking. The rulers of this world are a bunch of very backstabbing, nasty folk, interested in themselves and their power and not very concerned with much else.It's not really my kind of book, I didn't really care what happened to the characters and really at the end was still a bit ambivalent about actually continuing the series (when I discovered that the Library didn't have book 2 I wasn't very concerned, if I happen on it later I might read it)Overall, interesting concept, could have been a bit better. Has potential.