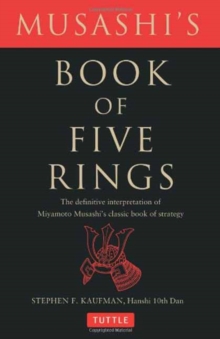 Musashi's Book of Five Rings : The Definitive Interpretation of Miyamoto Musashi's Classic Book of Strategy
Paperback
Description
This classic interpertation of Miyamoto Musashi's famous Book of Five Rings is intended specifically for the martial artist-as Miyamoto Musashi originally intended.
It explains the underlying truths necessary for a full understanding of Musashi's message for warriors.
The result is an enthralling book on martial strategy that combines the instincts of the warrior with the philosophies of Zen Buddhism, Shintoism, Confucianism and Taoism.
It is a crucial book for every martial artist to read and understand.Like the original, this classic book of strategy is divided into five sections.
The Book of Earth lays the groundwork for anyone wishing to understand Musashi's teachings; the Book of Water explains the warrior's approach to strategy; the Book of Fire teaches fundamental fighting techniques based on the Earth and Water principles; the Book of Wind describes differences between Musashi's own martial style and the styles of other fighting schools; while the Book of No-thing describes the "way of nature" as understood through an "unthinking" existing preconception.Famed martial artist and bestselling author Stephen Kaufman has translated this classic without the usual academic or commercial bias, driving straight into the heart of Musashi's martial teachings and interpreting them for his fellow martial artists.
The result is an enthralling combination of warrior wisdom and philosophical truths that Musashi offered to other warriors who wished to master the martial way of bushido.
Information
Format: Paperback
Pages: 128 pages
Publisher: Tuttle Publishing
Publication Date: 01/01/1994
Category: Oriental & Indian philosophy
ISBN: 9780804835206
Free Home Delivery
on all orders
Pick up orders
from local bookshops
Reviews
Showing 1 - 1 of 1 reviews.
Review by othersam
16/06/2015
Absolutely gobsmacking. Not "just" one of the finest books of martial strategy ever written, as penned by Japan's most famous swordsman, but, in parts, it's like a manual of /how to live/. I tried other English versions, but Hanshi Stephen F. Kaufman's is unquestionably the clearest and best. Try this, from Musashi's introduction: "This is a very difficult road to travel, and not many are made for it. It is frustrating, confusing, very lonely, certainly frightening, and it will sometimes make you think you do not have much sanity left to deal with the everyday surroundings of your world. Also, there is no guarantee that you will attain prefection. It must all come from inside you without any preconceived notions on your part. And so we begin…" A book to keep by you always. Essential.