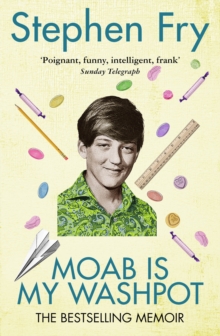 Moab Is My Washpot
Paperback
Description
Moab is My Washpot is in turns funny, shocking, tender, delicious, sad, lyrical, bruisingly frank and addictively readable. Stephen Fry's bestselling memoir tells how, sent to a boarding school 200 miles from home at the age of seven, he survived beatings, misery, love, ecstasy, carnal violation, expulsion, imprisonment, criminal conviction, probation and catastrophe to emerge, at eighteen, ready to try and face the world in which he had always felt a stranger.
Fry writes with the wit to which we have become accustomed, but with shocking candour too.
In an age of glossy celebrity autobiographies, Moab is My Washpot sets the high standard to which others should aspire.
Information
Format: Paperback
Pages: 448 pages
Publisher: Cornerstone
Publication Date: 20/07/2004
Category: Television
ISBN: 9780099457046
Other Formats
CD-Audio from £16.25
Audio cassette from £16.45
EPUB from £4.99
Free Home Delivery
on all orders
Pick up orders
from local bookshops
Reviews
Showing 1 - 5 of 9 reviews.
Previous | Next
Review by cotto
16/06/2015
I found it to be pretty amusing, over my head, tedious, and admirable all at the same time. It was a hard read at times because I didn't know a thing about Stephen Fry and this book is his autobiography (of the first 20 years of his life anyway). I've been living in the UK for 4 years but a lot of British stuff is still a total mystery to me and he discusses a lot of British 'stuff'. What I was able to get out of it was ... that you could screw around and getting into some pretty deep shit in your adolescence but still attend Cambridge and become a pretty successful guy. However, you can probably only do this if your IQ is in the near genius range (and do you realy want to risk it?). Being supremely intelligent but socially awkward/not sporty only lead to Mr. Fry acting out against the authorities. His story also shows that a stable family background doesn't necessarily mean that the kids will come out of it all functioning 'normally'. This was a book club selection and during the discussion one of the girls said that was her favorite part of the book as his abnormality despite having an upbringing with little to no fault made her feel normal for having issues as well. Fy also opened my eyes to the British public school boy experience and that it's a breeding ground for possible same sex experimentation. Some people swear this is true but I don't know myself - not being familiar with the school system here at all. Anyone have an opinion on this? Above all, I was very impressed by Fry's intellect and expertise in a variety of topics. He wasn't shy about showing off his knowledge and going off on quite a few tangents in this display. But it is his autobiography and I can't say that I wouldn't do the same if I was writing one! He is immensely honest about his wrong doings but you never find yourself disliking him in any way which is quite an accomplishment and probably why he is so still so well liked today. Could be two and half or a three but I'll go with three since I now like the guy.
Review by Mithril
16/06/2015
Utterly delightful language.
Review by Eruntane
16/06/2015
This book is so honest and so personal that it feels like an intrusion to read it. Having said that, once I started I couldn't stop!
Review by shiunji
16/06/2015
Perhaps you picked up this book not knowing Stephen. Well, you're about to get very closely acquainted. There is something about the way Stephen strings together words in lists that rolls off your tongue in some sort of symbiotic symmetry & the things he goes on about (passion, obfuscations, insults, literature,...) delights, captivates &... obfuscate. How can he even wonder why people treat him like a living encyclopaedia? The matter of life, growing up & falling in love is all dealt with in the manner I would expect a long lost twin would to his other. To me, his story is a reminder of that old adage about not everything meeting the eye, & the truth in all fables of redemption.
Review by Tess22
16/06/2015
The Stephen Fry I 'recognise' is intimidatingly clever, undoubtedly smug, but very loveable and above all exceptionally witty. The narrator of this book - Stephen the autobiographer - is all these things. The Young Schoolboy Stephen he writes about is all these things too. Young Schoolboy Stephen is also a horrible little git. A troubled horrible little git admittedly, but a horrible little git nonetheless.What is unusual is that Stephen-the-autobiographer fully accepts that he was horrible, and makes no excuses for it. "Yes" he says, "I was gay and Jewish and borderline genius and suffering from unrequited love". Many autobiographers would add "Therefore I lied and stole and was cruel and generally did my selfish best to self-destruct". Instead, Stephen stresses that these were arguably factors in his remarkable messed-up-edness, but that they definitely weren't responsible for his actions and that he ultimately has nothing but his own character to blame. Does this mean he is refreshingly honest and unafraid of being disliked? Or does it mean he is unafraid of Young Stephen being retrospectively disliked - while strongly emphasising "This isn't me NOW. I'm ashamed of it NOW"? Then again, his unflinching description of Horrible Git Stephen is still mixed with a healthy dose of familiar Fry charm and endearing insecurities. Is he saying, in smug Stephen fashion, "I was detestable, but you love me anyway, don't you?" Which I do actually. It's all very confusing.So I've decided, I won't care. At the end of the day, this book is moving and intelligent and bloody funny, with amazing language. I love the random tangents as well. Now I'm off to watch QI.