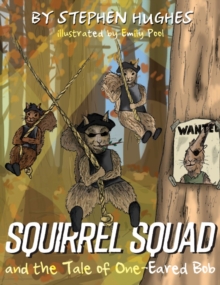 Squirrel Squad and the Tale of One-Eared Bob
Paperback / softback
Description
Welcome to the Squirrel Squad... Squirrel Squad are a band of highly trained, go anywhere, help anyone, bushy tailed heroes with a hint of mystery about them.
In Squirrel Squad and the Tale of One-Eared Bob, their challenge is to save the ducks of the old mill pond from the villainous, would-be pirate One Eared-Bob, a lawless rabbit and his equally unpleasant rabbit gang.
They are terrorising the ducks just because they can... until one dark night hope arrives in the form of Captain Beech Leaper and his courageous Squirrel Squad unit.
Leaper is a squirrel with a plan, but is this a challenge too far?
Can anyone stop Bob? And if Squirrel Squad fail, what then for the ducks and anyone else who is unfortunate enough to cross the path of this seriously off-the-rails rabbit?An original and entertaining picture book with illustrations by Emily Pool and rhyme to encourage reading along, this book is for readers in the school Key Stage 1 age group.
Information
Format: Paperback / softback
Pages: 24 pages
Publisher: Troubador Publishing
Publication Date: 14/03/2019
Category: Picture storybooks
ISBN: 9781789017557