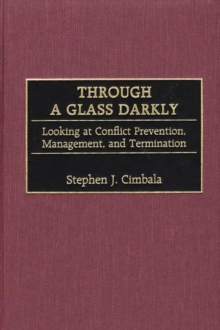 Through a Glass Darkly : Looking at Conflict Prevention, Management, and Termination
Hardback
Description
Cimbala shows why the prevention, management, and concluding of war all require an understanding of the subjective aspects of decision making as well as the hardware and tactics of military operations.
A review of past cases of U.S. security policy decision making and a preview of some future problems are combined to distill important lessons about coping with conflict in the post-Cold War world. These lessons include the awareness that some conflicts are unnecessarily provoked or prolonged on account of the gap between the perspectives and experiences of civilian policy makers and the views of the armed forces leadership.
Another important lesson is that, in resolving or managing conflicts, perceptions, and expectations of leaders filter out alternatives that might have led to preferred solutions had they been attempted in good time.
Of particular interest to policy makers, military professionals, and researchers involved with contemporary military issues.
Free Home Delivery
on all orders
Pick up orders
from local bookshops