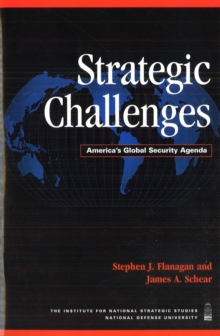 Strategic Challenges : America'S Global Security Agenda
Paperback / softback
Description
Since 2001, the United States has endured a tumultuous period, one dominated by the 9/11 attacks and all that has followed: the war on terrorism, the Afghan and Iraqi campaigns, looming confrontations with known or suspected proliferators of weapons of mass destruction, and episodic explosions of mass violence in chronically unstable regions.
In this second half of the decade, these and related strategic challenges will test the skill, tenacity, and imagination of the current and the next U.S. administration and the American public. How well these challenges are managed then, or mastered, will greatly influence whether future historians look back upon this decade as a dangerous passage toward a more peaceful, globally connected order or as a descending path into an ever more fragmented, violent world. This volume explores seven looming, as yet unmastered strategic challenges facing the United States.
Each chapter tackles one of the following challenges: tackling global terrorism, stopping WMD proliferation, undertaking defense transformation, protecting the homeland, strengthening relations with allies and partners, engaging other major powers, and defusing conflicts in unstable regions.
Each chapter takes a similar approach: defining the problem at hand (i.e., a short discussion of relevant trends); explicating current U.S. efforts to master the challenge (i.e., U.S. objectives, methods, degree of success or setbacks); and analyzing looming choices that U.S. policymakers will face in the next decade and, as appropriate, the consequences of alternative courses of action.
Strategic Challenges capitalizes on the great regional and topical expertise of the INSS professional research staff to present an authoritative overview of the global strategic environment facing the United States.
Information
Format: Paperback / softback
Pages: 432 pages
Publisher: Potomac Books Inc
Publication Date: 31/08/2007
Category: International relations
ISBN: 9781597971218
Free Home Delivery
on all orders
Pick up orders
from local bookshops