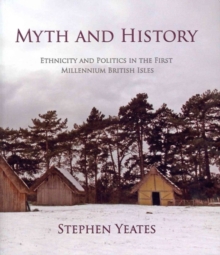 Myth and History : Ethnicity & Politics in the First Millennium British Isles
Paperback / softback
Description
Our recent understanding of British history has been slowly unravelling thanks to new techniques such as DNA analysis, new archaeological data and reassessment of the literary evidence. There are considerable problems in understanding the early history of Britain; sources for the centuries from the first Roman invasion to 1000 AD are few and contradictory, the archaeological record complex and there is little collaboration or agreement between archaeologists, Roman and Anglo-Saxon historians.
A common assumption concerning the development of the English language and, therefore British history, is that there was an invasion from northern Europe in the fifth century, the so-called Anglo-Saxon migration; a model based on the writings of Bede.
However the Bedan model has become increasingly unsustainable and is on the verge of collapse. Myth and History offers a comprehensive re-assessment of the present scientific, historical, archaeological and language evidence, debunking the model of British history based on Bede, and showing how Roman texts can be used in conjunction with the other evidence to build an alternative picture.
Stephen Yeates demonstrates that the evidence that has been used to construct the story of an Anglo-Saxon migration, with an incoming population replacing most, if not all, of the British population has been found wanting, that initial attempts to interpret literally the DNA evidence based on historical sources are problematic, and that the best DNA analysis of the British Isles fits the evidence into a broader European view which attempts to plot the movement of people across the Continent and which sees the major migration periods in Europe as occurring in the Mesolithic and the Neolithic.
This DNA analysis is constant with the latest assessments based on language development, contemporary historical reports from the Roman period, and the analysis of archaeological data from the Iron Age and Roman period.
He also argues that the Roman texts can be used to identify where the Late Roman provinces of Britain actually lay and this leads to important conclusions about the ethnicity and origins of the early British peoples.
This book is a timely attempt to unravel myth from history, present a cogent platform for Anglo-Saxon studies and understand who the British people really are.
Information
Format: Paperback / softback
Pages: 496 pages, b/w illus throughout
Publisher: Oxbow Books
Publication Date: 30/11/2012
Category: Archaeology by period / region
ISBN: 9781842174784
Also by Stephen James Yeates