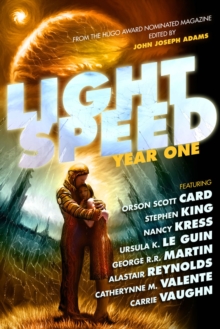 Lightspeed: Year One
Paperback / softback
Description
Lightspeed (www.lightspeedmagazine.com) is the critically-acclaimed,online science fiction magazine edited by bestselling anthologist John JosephAdams.
Lightspeed publishes all types of science fiction, fromnear-future, sociological soft sf, to far-future, star-spanning hard sf, andanything and everything in between.
Each month, Lightspeed features a mixof originals and reprints, from a variety of authors - from thebestsellers and award-winners you already know to the best new voices youhaven't heard of yet.
Now, in Lightspeed: Year One, you will find all of the fictionpublished in Lightspeed's first year, from new stories such as NebulaAward finalists, Vylar Kaftan's "I'm Alive, I Love You, I'll See You in Reno"and "Arvies" by Adam-Troy Castro, and Carrie Vaughn's Hugo Award-nominee"Amaryllis," to classic reprints by Stephen King, Ursula K.
Le Guin, George R. R. Martin, and more.
Information
Format:Paperback / softback
Pages:480 pages
Publisher:Prime Books
Publication Date:22/11/2011
Category:
ISBN:9781607013044