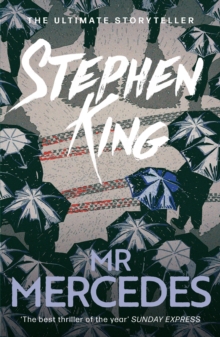 Description
Described as 'the best thriller of the year' Sunday Express, the No. 1 bestseller introduces retired cop Bill Hodges in a race against time to apprehend a killer.A cat-and-mouse suspense thriller featuring Bill Hodges, a retired cop who is tormented by 'the Mercedes massacre', a case he never solved.Brady Hartsfield, perpetrator of that notorious crime, has sent Hodges a taunting letter. Now he's preparing to kill again.Each starts to close in on the other in a mega-stakes race against time.
Information
Format: Paperback
Pages: 432 pages, n/a
Publisher: Hodder & Stoughton General Division
Publication Date: 23/04/2015
Category: Thriller / suspense
ISBN: 9781444788648
Other Formats
EPUB from £5.99
eAudiobook MP3 from £20.15
Free Home Delivery
on all orders
Pick up orders
from local bookshops
Reviews
Showing 1 - 2 of 2 reviews.
Review by Eyejaybee
23/09/2015
The last book that I read by Stephen King was '22-11-63', and that was the first of his books that I had read for more than twenty years. I had only been rather lukewarm about that one, and embarked upon this one with a certain trepidation.Such concerns proved totally unfounded. This is a fine crime novel, with no hint of the supernatural. It does, however, feature King's trademark of immediately plausible characters, and his potent ear for realistic dialogue, and the plotting showed the tightness of the best of his earlier works.Former detective Bill Hodges is a few months into his retirement, and is conscious that he is sinking into a state of torpor regulated by daytime television and junk food. Despite having enjoyed a largely successful career he still broods over a few of the cases that he was not able to resolve, and the perpetrators who escaped. Foremost among these is the 'Mercedes Killer' a maniac who had deliberately driven a stolen SL500 into a queue of people waiting to attend a job fair. Eight had been killed outright and many more had been injured.However, Hodges is jolted out of his indolence when he receives a letter from someone claiming to have been the driver on that day, taunting the detective and seeming almost to cajole him into committing suicide. Hodges is spurred by this to start reconsidering the investigation into the calamity, and finds himself drawn into a challenging cat and mouse contest against the killer.King maintains the tension superbly - that has, after all, been the characteristic of all his work, and his ability to persuade the reader to suspend disbelief is as powerful as ever. This was one of the most gripping books I have read this year.
Review by nicx27
10/11/2015
This is the first Stephen King book that I have finished, having tried one of his previous books and not been able to get into it. Mr Mercedes is not his usual horror type of book, it's a crime thriller. Mr Mercedes is the name given to a man who committed an atrocious crime. It still haunts Bill Hodges, a retired detective (det. ret.) that he did not manage to find him before he retired. But he gets a chance to try and track down this man with the help of two unlikely sidekicks.From the beginning we know who committed the crime and so this is very much a cat and mouse game as we follow both the perpetrator and the detective through their stories. I wasn't sure how this would work but it did work very well. The first part of the book, maybe the first quarter to a third, was quite hard work for me and I nearly decided to stop reading but then it all picked up pace and I found myself completely engrossed. It turned into a thrilling read and was very cleverly written. I think I will read the next book featuring Bill Hodges.