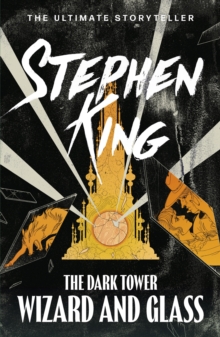 The Dark Tower IV: Wizard and Glass : (Volume 4)
Paperback
Description
WIZARD AND GLASS is the fourth volume in Stephen King's epic Dark Tower series. The Dark Tower is soon to be a major motion picture starring Matthew McConaughey and Idris Elba, due in cinemas August 18, 2017.In the fourth novel in Stephen King's bestselling fantasy quest, the Dark Tower beckons Roland, the Last Gunslinger, and the four companions he has gathered along the road.In a terrifying journey where hidden dangers lurk at every junction, the pilgrims find themselves stranded in an alternate version of Topeka, Kansas, that has been ravaged by a superflu virus.While following the deserted highway toward a distant glass palace, Roland recounts his tragic story about a seaside town called Hambry, where he fell in love with a girl named Susan Delgado and where he and his old tet-mates Alain and Cuthbert battled the forces of an evil harrier who ignited Mid-World's final war.
JOIN THE QUEST FOR THE DARK TOWER...THE DARK TOWER SERIES:THE DARK TOWER I: THE GUNSLINGER THE DARK TOWER II: THE DRAWING OF THE THREE THE DARK TOWER III: THE WASTE LANDS THE DARK TOWER IV: WIZARD AND GLASS THE DARK TOWER V: WOLVES OF THE CALLA THE DARK TOWER VI: SONG OF SUSANNAH THE DARK TOWER VII: THE DARK TOWER THE WIND THROUGH THE KEYHOLE: A DARK TOWER NOVEL
Information
Format: Paperback
Pages: 896 pages, B&W integrated illustrations by Dave McKean
Publisher: Hodder & Stoughton General Division
Publication Date: 01/02/2012
Category: Fantasy
ISBN: 9781444723472
Free Home Delivery
on all orders
Pick up orders
from local bookshops
Reviews
Showing 1 - 1 of 1 reviews.
Review by Kate_Ward
16/06/2015
I really wanted to love this especially after the genius that was The Wastelands.<br/>But...<br/>.......<br/>God it was a chore. As much as I understand the need to go into Roland's back story, it was about 200 pages too much. I loved getting more info about Roland's adventures with Cuthbert and Alain, and as always, King writes a fabulous set of villains. The only problem was, they were much more interesting than the focus of this instalment 'Miss Oh-So-Young-And-So-Pretty', Susan Delgado. She got on my wick from her first appearance and her segments were like wading through treacle for me.<br/><br/>And the less said about the 'Kansas' connection the better.<br/><br/>It's no surprise that this book of the series took me longer to read than the first three put together, and I'll be slowing down on the series from here on in. That's how dismayed this book made me.