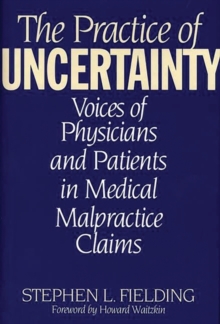 The Practice of Uncertainty : Voices of Physicians and Patients in Medical Malpractice Claims
Hardback
Description
Incorporating in-depth interviews, statistical data, and prior studies, Fielding illustrates how modern medicine is a victim of its own success.
The historical record since the early 19th century shows that the rate of malpractice claims has increased as medicine developed new and more complex procedures.
Fielding integrates macro- and micro-levels of analysis to explain how scientific medicine is inherently prone to adverse outcomes no matter how competent medical provides are and how patients often feel their personal experiences and views are marginalized during the course of their medical care.
This combination makes it more likely that patients will sue when something goes wrong.
The so-called medical practice crisis is mostly the result of a system of health care that has promoted professional dominance and high-tech care.
This system both shapes and is shaped by the daily clinical context in which patients, physicians, and other providers interact.
The key policy implication would be to place greater emphasis on primary care and prevention rather than curative or high-tech interventions. For example, aggressive programs to ensure primary care for all, public health, occupational health, and accident reduction would go a long way to improve both the health of the population and reduce the rate of medical malpractice claims.
Free Home Delivery
on all orders
Pick up orders
from local bookshops