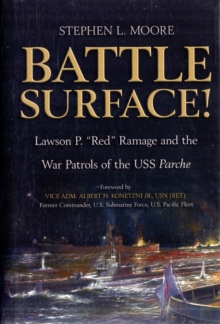 Battle Surface! : Lawson P. "Red" Ramage and the War Patrols of the USS Parche
Hardback
Description
Only seven U.S. submariners earned the Congressional Medal of Honor during World War II.
Among this elite group was Commander Lawson Paterson "Red" Ramage, who was the first submarine officer to earn the Medal of Honor without perishing in the course of earning it.
During the night of 31 July 1944, Ramage kept his submarine Parche on the surface and defiantly charged into the midst of a large Japanese convoy.
Although the U.S. Submarine Force was nicknamed the Silent Service, Red Ramage and his crew were anything but silent on that night, dodging heavy shells, machine gun bullets and even Japanese ships which tried to ram them.
Parche's crew reloaded their torpedo tubes furiously while their skipper twisted and turned wildly through the chaos for more than half an hour.
Ramage's close-in, furious surface rampage became the talk of the submarine force in terms of its boldness and of the enemy shipping he had destroyed.
The story of Parche's Pacific war patrols is rich with details of other torpedo attacks, surface gun actions, Japanese depth charge counterattacks and the crew's methods of relieving stress during liberty.
Recently discovered wartime diaries, official records and interviews with dozens of Parche officers and enlisted men provide rich details that are rarely reported. About the AuthorStephen L. Moore currently handles advertising and marketing for an electronics firm in the Dallas area.
He is the author of eight previous books on World War II and Texas history, including Presumed Lost; The Incredible Ordeal of America's Submarine Veteran POWs of World War II.
Free Home Delivery
on all orders
Pick up orders
from local bookshops