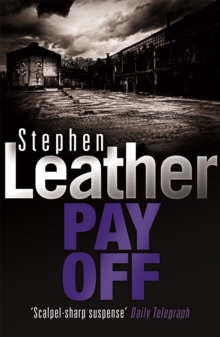 Description
Why does a wealthy Scottish financier set up a drugs deal with the IRA?
Jeopardise his career, endanger his family and lover by tangling with the East End underworld and a ruthless mercenary?
The motive is simple: revenge for a cold-blooded act of murder.His adversary is a dangerous gangland boss whose connections stretch from the Highlands to London and beyond.
More than a match for a newcomer, especially when his plans contain a fatal flaw which will be discovered only when it is much too late ...
Information
Format: Paperback
Pages: 256 pages
Publisher: Hodder & Stoughton General Division
Publication Date: 01/05/1997
Category: Crime & mystery
ISBN: 9780340672235
Other Formats
EPUB from £4.99
Paperback from £4.99
Free Home Delivery
on all orders
Pick up orders
from local bookshops
Reviews
Showing 1 - 2 of 2 reviews.
Review by adpaton
16/06/2015
I bought this book from my local dicount bookshoop because it was cheap and only later did I realise it was a re-issue of Leather's very first novel, published in 1987 but still with a contemporary feel. It's only references to the Soviet Union and the unfamilair dirth of computer technology that remionds one this was written before the fall of the iron curtain when mobile phones and the internet still fell into the 'beam me up, Scotty' category. Narrated in the first person by an never-named narrator, the story tells of a wealthy Scottosh businessman's attempt to avenge the deaths of his parents, which were directly and indirectly caused by a couple of unscrupulous drug dealing gang leaders. His plan is to frame them for swindling IRA dealers, thus keeping his own hands clean while the Provos wreck terrible revenge for him. But don't go thinking he's a ruthless barstard as bad as the men he plans to kill: Slaughter introduces us to David, the hero's Down's Syndrome brother who he adores and cares for tenderly. It's only his intense love for his parents that have driven him to such drastic and out-of-character behaviour. He sets up his plan, with the help of a beautiful call girl Sammi, with the proverbial heart of gold, a half-witted muscle man [the comic relief] and a dangerous mercenary for extra muscle. So far, so Jeffrey 'Not a penny more' Archer and the plan barrels along with the comfortable familiarity of your usual revenge tale. but come the crux, when the drug hand over takes place, he is swindled by his hired muscle who murders a few dealers then disappears with the money and the drugs.Our chastened hero is recouperating from a gunshot wound when he hears his associates are being murdered, horribly and sadistically, a campaign of retribution which culminates in the abduction of his beloved brother and the Sammi, the love of his life - aka the w. with a h. of g. After an interminable and pointless verbal tour of a whisky distillery we cut to the chase, the part where the revenger hands over money to the IRA dealers in exchange for Sammi and David. Okay, I won't spoil it by revealing what happens next. Does Sammi die nobly and leave him to be comforted by his loyal and beautiful partner Shona? What happens to David? Will the IRA forgive him for his part in cheating them?I have only discovered Leather recently [always rather put off by prolific authors] and have enjoyed him tremendously. Pay Off is a little immature and could do with tighter subbing - less of the bloody whisky factory for a start - but the pace and the wit are already evident signposting the road to authorial success.
Review by ecw0647
16/06/2015
I have to agree with some of the other reviewers. The book has an interesting premise: a relatively average Joe seeks revenge on a group of people responsible for his father's suicide (the book's formal description is very screwy.) <br/><br/>This was Leather's first book and he notes that, much like some of Deighton's books, the narrator is never named. His access to the nether world is somewhat satisfactorily explained and there is the stereotypical love for the beautiful and tender call girl. There is the requisite developmentally, but charming, brother he puts at risk. You know, you've seen these players before.<br/><br/>The first part of the book is better than the final portion which descends into the typical gun battle with the hero being saved by his gangland friend at the absolute last minute, nay second. Nothing innovative there except for the distillery details. No spoilers for anyone who has watched any TV show in the last century.<br/><br/>Nevertheless, it is a good start and intriguing enough for me to start another Leather book: Bombmaker which has a very interesting story-line.