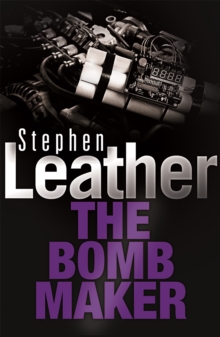 Description
Andrea Hayes was one of the IRA's most deadly killers, until a misplaced bomb ripped a group of passing kids apart, and she left all that behind her.
Now, years later, she's got a whole new life with a new family and her days of violence seem a distant memory.
But then her daughter is kidnapped by persons unknown, and she is blackmailed into building a huge explosive device for them - target unknown. . .
Information
Format: Paperback
Pages: 416 pages, None
Publisher: Hodder & Stoughton General Division
Publication Date: 01/01/1999
Category: Thriller / suspense
ISBN: 9780340689561
Free Home Delivery
on all orders
Pick up orders
from local bookshops
Reviews
Showing 1 - 3 of 3 reviews.
Review by melwil_2006
16/06/2015
One of the problems with Reader's Digest editions of anything is that you wonder if you missed anything important. Here, though, I was quite happy with what was there - any more would have been over the top.Andrea Hayes used to work for the IRA, building bombs until something went wrong. Now her daughter has been kidnapped and she's been asked to build a bomb that will destroy London. The characters are mostly compelling, and there's a great twist in the book. The book is a little aged though - the events of September the 11th 2001 have not occured, and terrorism of this level seems like a strange, foreign type thing.
Review by austcrimefiction
16/06/2015
I suspect I should have read this in 1999. Ultimately a readable enough book, which, being a thriller required a willing suspension of disbelief. Whilst willing, the suspension bit got wider, higher and somewhat shakier as I went on. Partially I think the problem was one of believability of the main premise. I'm not Pollyanna, I'm well aware that everyone has a few things tucked away in the past that they'd rather their partner didn't find out about... but seriously ... the proverbial hits the oscillating device and she's still staying quiet? Had a bit of a problem swallowing that. Aside from that, the other problem was getting context, somehow, despite the story referring to the IRA background of Andrea, there was something about the time period in which it was set that wouldn't gell in my head - so none of the technology sat within a strongly enunciated time period. I was constantly at sixs and sevens having to remind myself that this wasn't a current day thriller, and things, bomb and havoc wise, might have moved on, but I'd no idea from where exactly.Was intriguing enough to have a look at some of the work by this author that's more current though, and ebooks The Bestseller and The Basement acquired for a look when time permits.
Review by ecw0647
16/06/2015
Every parent's nightmare. A child is kidnapped and held under threat of death to force the parent to do something that may result in the deaths of hundreds of people.<br/><br/>Andy is a former IRA bomb-maker. Retired from the IRA after a bomb accidentally kills some children who were not the targets, she has another secret that we only learn mid-way through the book, but which has profound implications for everyone's actions. Martin, her husband, knows nothing of her past. Katie, their daughter, has been taken by a group of ostensible terrorists who want her to construct a massive fertilizer bomb, a la Timothy McVeigh, the kind of bomb that had been Andy's specialty. (Their ultimate motivation stretches credulity, but never mind.) In return they will keep Katie safe, they promise, but if Andy fails to follow instructions precisely, her daughter will die. Andy soon realizes that part of their plan is to tag the IRA for the bombing. Why, remains a mystery until almost the end.<br/><br/>Neither Andy nor the readers know the motivations of the "terrorist" cell, composed of a mix of true-believers (but in what?) and common criminals. We learn early on it's related to a shadowy Chinese general, whose motivations are equally suspect. That makes for a volatile mix but Andy and Katie are not without their own resources. Then throw in MI-5 to spice things up. <br/><br/>The actions and feelings of the participants struck me as very realistic, and one gets the feeling that these are real people dealing with what could be a very real situation (except for the Chinese motivation) and that ratchets up the tension considerably.<br/><br/>Great mowing/traveling listen.<br/><br/><br/>