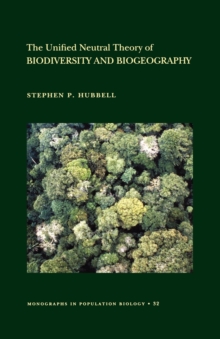 The Unified Neutral Theory of Biodiversity and Biogeography (MPB-32)
Paperback
Description
Despite its supreme importance and the threat of its global crash, biodiversity remains poorly understood both empirically and theoretically.
This ambitious book presents a new, general neutral theory to explain the origin, maintenance, and loss of biodiversity in a biogeographic context. Until now biogeography (the study of the geographic distribution of species) and biodiversity (the study of species richness and relative species abundance) have had largely disjunct intellectual histories.
In this book, Stephen Hubbell develops a formal mathematical theory that unifies these two fields.
When a speciation process is incorporated into Robert H.
MacArthur and Edward O. Wilson's now classical theory of island biogeography, the generalized theory predicts the existence of a universal, dimensionless biodiversity number.
In the theory, this fundamental biodiversity number, together with the migration or dispersal rate, completely determines the steady-state distribution of species richness and relative species abundance on local to large geographic spatial scales and short-term to evolutionary time scales. Although neutral, Hubbell's theory is nevertheless able to generate many nonobvious, testable, and remarkably accurate quantitative predictions about biodiversity and biogeography.
In many ways Hubbell's theory is the ecological analog to the neutral theory of genetic drift in genetics.
The unified neutral theory of biogeography and biodiversity should stimulate research in new theoretical and empirical directions by ecologists, evolutionary biologists, and biogeographers.
Information
Format: Paperback
Pages: 392 pages, 123 line illus.
Publisher: Princeton University Press
Publication Date: 09/04/2001
Category: Biology, life sciences
ISBN: 9780691021287
Free Home Delivery
on all orders
Pick up orders
from local bookshops
Reviews
Showing 1 - 1 of 1 reviews.
Review by Ganzy
16/06/2015
In this monograph, the author shows that it is possible to mathematically combine ecology with evolutionary biology to construct a quantitative theory of biodiversity, which he calls the unified neutral theory of biodiversity. Since its publication, Hubbell's theory has come under sustained attack from traditionalists who object to the theory, e.g. mistakenly identifying its main driver to be genetic drift, or claiming that the theory removes the need for ecology. A careful reading of the book shows this criticism to be unwarranted, as he explains the limits of application and the challenges some people may have in dealing with the concepts. One extraordinary theoretical insight arrived at in this book is that biodiversity is of fractal dimension, which is directly related to a "fundamental biodiversity parameter" (denoted by ??). This is a deep and profound discovery, as "the more extensively and finely we look, the more biodiversity we find". At a stroke, it also radically dethrones the typological concept of species as a standard representative of biodiversity and suggests that lower levels are more important, such as that of individuals or their DNA.The theory allows quantitative comparisons to be drawn between highly diverse communities. One such study, published in 2005, shows that speciation rates in the Cape Floristic Region is more than twice that of the Amazon rainforest. The CFR, has, in fact, higher values of ?? (and therefore too of fractal dimension), than any previously examined plant system. See Latimer, Silander and Cowling: "Neutral Ecological Theory Reveals Isolation and Rapid Speciation in a Biodiversity Hot Spot".
Also by Stephen P. Hubbell
Also in the Monographs in Population Biology series | View all