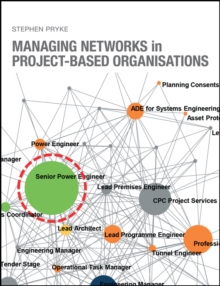 Managing Networks in Project-Based Organisations
Paperback / softback
Description
The first book demonstrating how to apply the principles of social network analysis to managing complex projects This groundbreaking book gets project managers and students up to speed on state-of-the-art applications of social network analysis (SNA) for observing, analysing, and managing complex projects.
Written by an expert at the leading edge of the SNA project management movement, it clearly demonstrates how the principles of social network analysis can be used to provide a smarter, more efficient, holistic approach to managing complex projects.
Project managers, especially those tasked with managing large, complex construction and engineering projects, traditionally have relied upon analysis and decision-making based upon hierarchical structures and vaguely defined project systems, much of which is borrowed from historic scientific management approaches.
However, it has become apparent that a more sophisticated methodology is required for observing project systems and managing relationships with today s more knowledgeable and demanding clients.
Social network analysis (SNA) provides just such an approach. Unfortunately, existing books on social network analysis are written primarily for sociologists and mathematicians, with little or no regard for the needs of project managers until now.
The first and only book of its kind, Managing Networks in Project-Based Organisations: * Offers a framework and a fully-developed approach to applying SNA theory and methodologies to large, complex projects * Describes highly effective strategies and techniques for managing the iterative and transient relationships between network-defining actor roles involved in the delivery of complex projects * Uses numerous real-world examples and case studies of successful applications of SNA to large-scale construction and engineering projects around the world * Draws on its author s decades of experience managing complex projects for demanding clients, as well as his extensive academic research in Project Management Managing Networks in Project-Based Organisations is an important working resource for project management professionals and consultants, especially those serving the construction and engineering industries. It is also an excellent text/reference for postgraduate students of project management and supply chain management, as well as academic researchers of project management.
Free Home Delivery
on all orders
Pick up orders
from local bookshops
Also by Stephen Pryke