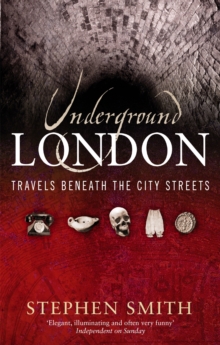 Underground London : Travels Beneath the City Streets
Paperback
Description
What is visible to the naked eye has been exhaustively raked over; in UNDERGROUND LONDON, acclaimed travel writer Stephen Smith provides an alternative guide and history of the capital.
It's a journey through the passages and tunnels of the city, the bunkers and tunnels, crypts and shadows.
As well as being a contemporary tour of underground London, it's also an exploration through time: Queen Boudicca lies beneath Platform 10 at King's Cross (legend has it); Dick Turpin fled the Bow Street Runners along secret passages leading from the cellar of the Spaniards pub in North London; the remains of a pre-Christian Mithraic temple have been found near the Bank of England; on the platforms of the now defunct King William Street Underground, posters still warn that 'Careless talk costs lives'.
Stephen Smith uncovers the secrets of the city by walking through sewers, tunnels under such places as Hampton Court, ghost tube stations, and long lost rivers such as the Fleet and the Tyburn.
This is 'alternative' history at its best.
Information
Format: Paperback
Pages: 416 pages
Publisher: Little, Brown Book Group
Publication Date: 03/02/2005
Category: British & Irish history
ISBN: 9780349115658
Free Home Delivery
on all orders
Pick up orders
from local bookshops
Reviews
Showing 1 - 4 of 4 reviews.
Review by Rynooo
16/06/2015
A series of unrelated, uninteresting anecdotes interspersed with a hotchpotch of historical facts and an unhealthy dose of sarcasm.There is far too-strong a focus on the author's various guides (who all seem to be caricatures of Hugh Grant) and no logical flow from one story to the next. Additionally, the descriptive text of each location is so generic (cold, dark and damp) that it's hard to form a mental picture of any location. At the very least the book would benefit from some colour photographs, but all you get are tiny black and white illustrations at the start of each chapter.While it contains the odd interesting tidbit, I'd read far more interesting and cohesive facts about subterranean London in half an hour of browsing through blogs.
Review by riverwillow
16/06/2015
Fascinating account of the various bits of underground London - from the night workers on the tube (who would be a patrolman working alone at night 'pacing out the deserted tunnels with his lamp and his walkie talkie and his large box-spanner' - not me). The subterranean diverted rivers and culverts of London - the walk under the Thames Barrier. Oh yes and the miles of tunnels that the MoD have, allegedly, sunk under the capital. Amazing.
Review by jaygheiser
16/06/2015
A bit above average. In one way, I didn't really enjoy his style, yet in another way, I pretty much didn't put it down. Not sure I'd want to read another of his books.
Review by olivetwist
16/06/2015
A wealth of information here--there are many times where I felt (and methinks rightfully so) that I was being treated to some deeply-buried gems, secrets of which only a select few could know the true nature. Some chapters are as surprisingly naughty and funny as what Smith is unearthing for readers in a particular strata. One or two are extremely dry--an agonizingly detailed and technical chapter on a dam system is a violent break in pace and interest. It seemed a well-meaning tribute not to readers or the subject matter but to a guide who had done Smith a big favor in letting him tour a normally off-limits area, nevermind that it didn't turn out to be as worthwhile as rumored. The rumor-mongers are a community of London Underground enthusiasts and the chapter might have been dedicated to the purpose of appeasing/impressing them as well, a testy issue Smith does mention several times in the text (in more amusing chapters). Despite this major mistake and some minor detours of the blander kind, Underground London is a rich feast of an adventure, presenting wonderful stories and spaces and journeys in an entertaining, intimate manner studded with important historical moments and fabulous little anecdotes. I will definitely be revisiting this.