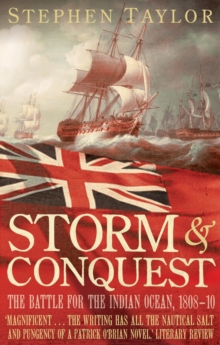 Storm and Conquest : The Battle for the Indian Ocean, 1808-10
Paperback
Description
The Indian Ocean, 1809. At stake: Britain's commercial lifeline to India and naval supremacy.
In one fatal season, the natural order of maritime power since Trafalgar was destroyed. "Storm and Conquest" brings together the terrifying ordeal of men, women and children caught at sea in hurricanes, and those who survived to drive the French from the Eastern seas.
All shared a need to prove themselves - to make a career, or a fortune, or a marriage - in places which could be at once magnificent and terrifying.
Information
Format: Paperback
Pages: 400 pages
Publisher: Faber & Faber
Publication Date: 01/09/2008
Category: General & world history
ISBN: 9780571224678
Free Home Delivery
on all orders
Pick up orders
from local bookshops
Reviews
Showing 1 - 2 of 2 reviews.
Review by Malarchy
16/06/2015
Storm and Conquest is a popular history book as gripping as many novels. It details the triumphs and tragedies of the East India Company over a couple of years in the early 19th century. The main players in India, South Africa, and sailing the Indian Ocean are brought to life through a fantastic summary based primarily on the letters, notes, analysis, and reports of those who were there.The British Empire was in the ascendency post-Trafalgar and it was naval prowess that had brought glory to Britain. The navy was far from unrivalled though and the French fleet and the elements still brought many ships down. Taylor's book explores the people who were on board, how they related to each other, and what became of them when disaster struck.What surprised me the most about this book is that it is first and foremost a description of the people involved. From the politicking over the governorship in India, the bitter recriminations between rivals for honour, and the love, romance, and illicit affairs that sparked, this is a tale of real human beings.Taylor's analysis of those people is rarely of a fence-sitting variety. The exploits of Captain Corbet for instance are a remarkable read with Taylor firmly backing the sources that show Corbet to have been a monster despite the occasional success he wrought. Corbet's tale on the Nereide is probably the most heartbreaking of all and the cruelty of the life among the Indiamen and HM Navy is brought home vividly.While the title of this book suggest an equal weight between Storm and Conquest, the former is much more of a presence. This is not really a book of battles and military action, more a tale of survival and intrigue. In the honour-bound society of early 19th century Britain, the aspirtions againt character weigh far more heavily than any physical injury so captains such as Willoughby plough on into extreme danger motivated solely by the chase of glory.As an exposition of the now easily forgotten people of the East India Company, Storm and Conquest is superb. These people effectively ran an Empire larger than any other in history and to read them revealed so insightfully was a real pleasure.
Review by drmaf
16/06/2015
It is regrettable that so many naval histories of the Napoleonic Wars end with Trafalgar. While its true Trafalgar was the last major sea battle of the era, the French remained a force at sea through command of strategic outposts like Mauritius, which threatened Britain's routes to India. There were also numerous powerful French vessels still at seaoperating on their own initiative that posed a threat to British shipping. This book is a commendable addition to the history of the great war at sea by detailing the contnuing struggle between Britain and France post-Trafalgar. Highly readable, its a gripping account of a campaign that remains little known today, and will enthrall all those interested in the history of war at sea.