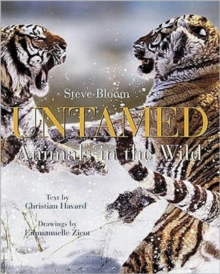 Untamed: Animals in the Wild
Hardback
Description
For more than ten years, wildlife photographer Steve Bloom traveled all over the world, roaming through the jungles of Borneo, the African savannahs, and the frozen banks of Antarctica to assemble this dazzling collection of photographs of animals in their natural environments.
With an international range and an eye and ear for what kids want to know about animals, the photographs and information in Untamed bring to life a vast panorama of animal diversity, and of the landscapes, climates, and habitats in which they live.
Children will experience animals up-close; the serene gaze of a gorilla relaxing in the trees; a shark jumping in midair to catch its prey; a Siberian tiger traipsing through the snow in search of food; and penguins congregating on an ice floe.
Bloom's anthropomorphic approach reveals rage, tenderness, and even humour in his subjects, capturing those fleeting moments when the gap between animal and human seems to disappear altogether.
These amazing images, augmented by educational yet entertaining facts, make Untamed an essential volume for all animal lovers and libraries.
Information
Format: Hardback
Pages: 78 pages, ills
Publisher: Abrams
Publication Date: 16/09/2005
Category: Wildlife (Children's/YA)
ISBN: 9780810959880