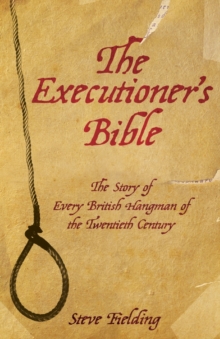 Executioner's Bible
Paperback / softback
Description
"The Executioner's Bible" tells the story of these working-class men who carried out this gruesome profession until its abolition in the late 1960's.
Despite often being unassuming and quiet professionals, men like Albert Pierrepoint, William Billington and many other Chief and Assistant executioners made a name for themselves in a world hungry for salacious and gruesome news.
Read about the bungling hangmen sacked for incompetence; drunken executioners dismissed for brawling; one hangman driven to suicide and another who 'got out just in time', to the last men to pull the lever at the height of the swinging sixties.
They were the last of their kind: the hangmen of the 20th Century. And this is their fascinating sometimes repugnant, always enthralling story.
The secrets of over six controversial decades of capital punishment are finally revealed.
Information
Format: Paperback / softback
Publisher: John Blake Publishing Ltd
Publication Date: 12/11/2008
Category: True crime
ISBN: 9781844546480
Also by Steve Fielding