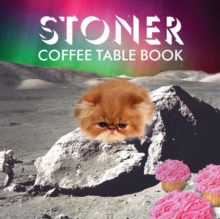 Stoner Coffee Table Book
Hardback
Description
Just what it sounds like: a collection of photos that are fun, soothing, stimulating, or mind-boggling to look at when you're high.
The state of being high rewards deep attention, and stoners find a lot of things interesting.
Sometimes it's that one spot on the ceiling, or a bit of woodgrain, or an oddly shaped tortilla chip.
But what if there was a book designed and to fascinate and inspire stoners everywhere?
With amazing images on every page, dogs seemingly walking on water, a double rainbow, a city made of jelly, optical art, funny collages, a misty forest-a music and munchies mood finder to help with those difficult decisions, and an eye-catching, mind-bending cover, everyone can appreciate this fascinating visual journey, especially those living the high life.
It is presented as a true jacketed coffeetable book.
The cover we're considering would be one of those image-within-an-image approaches, in which the cover would feature an image of the book on a coffee table, and on the cover of that book would be a smaller image of the book, and etc. in regression. There'll be a short intro, and then it's just images to immerse yourself in...
Information
Format: Hardback
Pages: 112 pages
Publisher: Chronicle Books
Publication Date: 01/08/2011
Category: General arts
ISBN: 9781452103327
Free Home Delivery
on all orders
Pick up orders
from local bookshops
Reviews
Showing 1 - 1 of 1 reviews.
Review by fueledbycoffee
11/07/2015
This is exactly what you think it is and no, drugs aren't funny. However, this book was hysterical.First, I want to point out that I have very little expertise on this subject. I don't believe this should hinder my review in any way, even in deference to a truer, more poignant, experienced review by a bloodshot-eyed, giggling, Dorito munching counterpart.In fact, I have zero experience with pot aside from errant second-hand smoke. Ive lived in Portland, OR. (like that explains everything?). I couldn't say what a stoner would find amusing or interesting in a book with cover art that includes pink cupcakes, moon rock, an astronaut, and a giant kitten head. I never had the desire to smoke up regardless of the fact that I live in a State that openly declares, "Hey, Dude! It's okay to be a pothead." No judgment. Just fact.I do not let experience, or lack of, ruin a review. There are a number of things Ive never tangibly experienced: picking a faction in a dystopian society, fighting with Shadowhunters (by the Angel!), traveling in time to marry a Fraser, meeting a Luxen (that I know of), or driving to Manderley with my maybe-murderer husband. My lack of education in all these matters have not stopped me reviewing yet.This book jumped out at me while I was standing in a shop called Fuego. I've found standing creates less confusion and is decidedly more conducive to shopping. Standing and thumbing through the entire book, I found the pages made no sense. Suddenly nonsense made this book hilariously funny. Drugs are not funny. Pictures like this? Very funny. Ugly Laugh and Snort Funny. Disturbingly photoshopped, lettuce-headed, bicycling children next to a page of a lettuce garden. Scenic settings, complete with giant, grumpy kitten heads. Piles of candy or junk food. Colorful pictures that make your eyes hurt. A unicorn in a wooded clearing. And pages of complex geometric patterns that would have made Escher and Picasso simultaneously proud.In other words, this book would "like totally wig your melon".The beauty of the compilation is that this is a conversation piece, a timeless coffee table book designed to be particularly interesting or funny especially when you are completely baked. Again, drugs aren't funny (Just Say NO!) although after giving birth to a near 10 lb child, I do remember being completely, blissfully high. I'm sure I could have found even deeper enjoyment and done this review some assemblance of justice.I thought the book was comically engaging (while disturbing shoppers with sudden braying laughter....only a a dozen times, give or take). I would venture, that beyond the target audience, this gem offered far more promise to those of us puritanicals operating with a twisted humor and drug-free, sober jocularity - if only to produce trouser-peeing laughter due to pictures of tomfoolery such as giant, pink cupcakes and kitten faces on the moon.