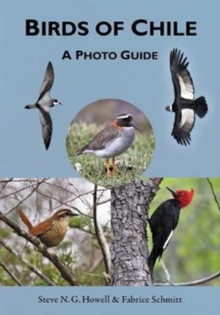 Birds of Chile : A Photo Guide
Paperback / softback
Description
A cutting-edge photographic field guide to the birds of ChileThis is the first modern-style photographic field guide to the birds of Chile, an increasingly popular destination with birders and naturalists.
Compact and easy to carry, pack, and use, Birds of Chile is ideal for curious naturalists and experienced birders alike, providing everything anyone needs to identify the birds they see.
Clear photographs and brief, facing-page species accounts highlight what to look for and how to quickly identify species.
The photos include both close-ups and birds-in-habitat images to further aid real-life identification.
An introduction and maps provide an overview of Chile's geographic regions and their distinctive birdlife.
Birds of Chile is also a great resource for birding in nearby countries, especially Argentina, Bolivia, and Peru. The first field-friendly photographic guide to the birds of ChileMore than 1,000 real-life photos and brief, facing-page text make bird identification easyOverview and maps describe the distinct bird regions of ChilePerfect for curious naturalists and experienced birders alikeCompact and easy to carry and packAlso a great resource for birding in Argentina, Bolivia, and Peru
Information
Format: Paperback / softback
Pages: 240 pages
Publisher: Princeton University Press
Publication Date: 09/03/2018
Category: Reference works
ISBN: 9780691167398