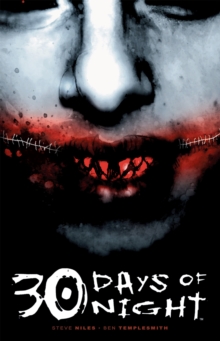 30 Days of Night
Paperback
Description
In a sleepy, secluded Alaska town called Barrow, the sun sets and doesn't rise for over thirty consecutive days and nights.
From the darkness, across the frozen wasteland, an evil will come that will bring the residents of Barrow to their knees.
The only hope for the town is the Sheriff and Deputy, husband and wife who are torn between their own survival and saving the town they love.
Information
Format: Paperback
Pages: 104 pages
Publisher: Idea & Design Works
Publication Date: 15/04/2003
Category: Horror & ghost stories
ISBN: 9780971977556
Other Formats
Paperback from £10.65
Hardback from £15.75
EPUB from £2.21
Free Home Delivery
on all orders
Pick up orders
from local bookshops
Reviews
Showing 1 - 5 of 6 reviews.
Previous | Next
Review by eldi
16/06/2015
Very good horror comic. Ben Templesmith's art work is cool and adds to the intensity of the story. Very typical vampire story though, and the time line seems a little awkward at times. Very good though.
Review by Arctic-Stranger
16/06/2015
Ok, lets get the obvious out of the way first. Barrow does not have 30 days of night--they have 65 days of night. And it is light during the day, but there is not sunlight. And to write a story about Barrow and not have Native Alaskans (Inuit Eskimos) as major characters is just wrong. Also, Alaska Airline flies to Barrow on a regular basis, even in the dark of winter. And there are at least 300 members of the Presbyterian Church in Alaska, which means the population of around 150 is slightly off! (The actual population is closer to 4000.)But that said, this was a decent work. Character development was a bit thin, but since most of them are going to die anyway,,,why bother. The plot device is very interesting...vampires living in the long nights of Alaska. The vampires here are really a zombie/Vampire type of creature. They eat like zombies, but think like vampires. The art work is interesting, at times confusing, at times it captures the horror very well. I would not start on graphic novels with this one, but for people who like them, this is a good addition.
Review by storyjunkie
16/06/2015
It's content and art style are truly fabulous horror, particularly to a vampire nut such as myself. The premise is simple: a town in Alaska is geographically located so that the sun doesn't rise for thirty days in the middle of the winter season. Vampires hear of this town, and decide to visit, for certain violent, bloody, feasting qualities of "visit".The strength of the story is in the characters: vampires behaving like vampires, people behaving like people, and the two mixing.The weakness is in the pacing. Taking as separate issues of 22-pages, coming at least one month apart, this wouldn't have read nearly so rushed. There aren't enough time indicators in the story to give a sense of how long things are going on, cutting the suspense by quite a bit. It's not quite so terrifying if you (meaning me) make the mistake of thinking that everything happened in that first 24 hours, because it didn't. Yet, there's really nothing to stop that assumption until it's mentioned in the last two pages that it's almost time for the sun to come up again; meaning that what I took as 24 hours was really more like 24 days, which messes up character motivation and makes more than a couple of them look really foolish.But still, fun and good horror. Especially the second time through.
Review by regularguy5mb
16/06/2015
I remember hearing a lot of great things about 30 Days of Night before I read it. Someone at the local comic shop recommended it to me, and after seeing Templesmith's beautiful art style, I immediately picked it up. This was the first thing from Steve Niles that I read, and he quickly went to the top of my "creators to watch" list.The whole thing is a wonderfully executed horror story with a very John Carpenter feel (in fact, you could almost say it's The Thing meets Assault on Precinct 13 with vampires). It's fast-paced and as violent as you'd expect it to be (unless you're a Hollywood executive, apparently... sigh... what a waste of a movie adaptation).This one is always on my list of recommendations for anyone looking for some good comics to read... as long as they like horror and bloodshed, that is.
Review by palaverofbirds
16/06/2015
The only thing I really liked about this work was the art. The drawings are unique and expressive, at least some of the time. A lot of panels were so hazy it made reading difficult (e.g., "I see a red splotch so I guess someone got killed...") The author came up with a pretty cool idea for the setting of a vampire story, but I feel that's as far as they got.