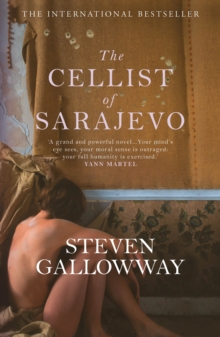 The Cellist of Sarajevo
Paperback
Description
Snipers in the hills overlook the shattered streets of Sarajevo.
Knowing that the next bullet could strike at any moment, the ordinary men and women below strive to go about their daily lives as best they can.
Kenan faces the agonizing dilemma of crossing the city to get water for his family.
Dragan, gripped by fear, does not know who among his friends he can trust. And Arrow, a young woman counter-sniper must push herself to the limits - of body and soul, fear and humanity.
Told with immediacy, grace and harrowing emotional accuracy, The Cellist of Sarajevo shows how, when the everyday act of crossing the street can risk lives, the human spirit is revealed in all its fortitude - and frailty.
Information
Format: Paperback
Pages: 288 pages
Publisher: Atlantic Books
Publication Date: 01/01/2009
ISBN: 9781843547419
Other Formats
CD-Audio from £15.99
EPUB from £6.39
Free Home Delivery
on all orders
Pick up orders
from local bookshops
Reviews
Showing 1 - 5 of 5 reviews.
Review by bookmart
16/06/2015
The story of three people over a few days, living there lives during the seige of sarajevo. It's about how they survive day by day and their thoughts and hopes for the future. An easy read, but very engaging. It's a great read.
Review by CatyM
16/06/2015
This book examines the minutiae of the lives of three people during the siege of Sarajevo. The characters' reflections on their lives before the war come as a jarring reminder that none of us is immune from war, that it can erupt in countries that are apparently stable and that when it does so it decimates the lives of ordinary people. Many of the descriptions of daily life and the choices that must be made are powerful and poignant, and the writing is reflective and atmospheric.Nevertheless, I didn't feel gripped by this book. While I was quite intrigued to see what would happen to the characters, I didn't feel caught up in their fate. I found it quite hard to distinguish between Dragan and Kenan, and had to keep consciously reminding myself whose story I was reading; few of the characters seemed to have distinct personalities, and seemed at times little more than canvases on which the author paints his reflections on the civil war. The blood and dirt of war is in the book, but it still often feels remote, like war watched on a 24 hour news channel rather than from the inside.I couldn't help thinking that the message might have been better conveyed if the main part of the story had stretched over a longer period of time - even just three or four days - and a little bit of the oft-repeated detail of crossing roads under sniper fire omitted in favour of the other threats that were faced. That the struggles, threats and deprivations were sustained is stated, but not really conveyed. We see the struggle to get water, but not the effects of the lack of it. Neither do we get much sense of the 'enemy' or the black market other than as a vague malevolent presence.On the whole, I thought that this book was reasonably good, but did not live up to the rave reviews I've read.
Review by littlebookworm
16/06/2015
In besieged Sarajevo, a cellist, gazing out his window, sees more than 20 people die from a bomb while waiting for bread. In mourning for them, he decided to play at that exact spot for 22 days, to honor all of the dead, putting his life at risk. Meanwhile, Kenan ventures out most days, embracing danger to get water for his family and inexplicably the neighbor, an old woman whom he has never liked. Dragan feels a burden on his family, his wife and son sent away before the war, and finds some comfort in his job at the bakery. Arrow, a sniper, is determined to wreak revenge on the people in the hills who are killing so many of her townspeople. Together, these characters weave a picture of a city under siege, somehow seeking hope but not yet hopeless.My favorite character, to whom I wished the narrative would keep returning, was Arrow. She is the most interesting of all of them, a killer, but somehow one that we can love and empathize with even as she chooses her targets and plans her strategy. She's a murderer who has blocked off her heart somehow, drawing a direct line between the girl she was and the sniper that she is now. I can't imagine not feeling for her. The other characters were less compelling, especially Dragan, who seemed obsessed with a variety of things and complained too much. The cellist didn't have much of a personality. Kenan was also a compelling character and I enjoyed the discoveries he made and the thoughts he had over the course of the novel.Perhaps the only problem I had with it is that I liked it while I was reading it, but now that it's been a while since I finished, its core meanings have not stayed with me particularly well. War is wrong and savage, and it's lovely that the cellist brought hope into its midst, but I have read other books about Sarajevo and I'm not sure this stands out as much as perhaps it should. I enjoyed its ruminations on survival while people are out to kill you, how the city holds together as one being, and Arrow's protection of the cellist, but I'm not left with a desire to reread this one, perhaps because I just never developed a deep relationship with the characters.I am glad I read it and I would recommend The Cellist of Sarajevo, particularly if you enjoy bleak stories about war with a light shining through the darkness.
Review by SimoneA
16/06/2015
This is the first book I read about the war in former Yugoslavia and I have to admit that I didn't realize it was that bad. I think there were beautiful stories in the book, but they never gripped me as much as I would have liked.
Review by Piggelin
16/06/2015
Very good book and also quick read, but with a story that will stay with you for a long time.