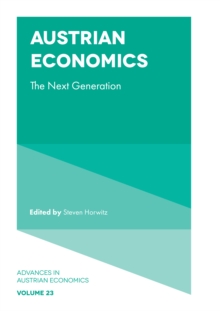 Austrian Economics : The Next Generation
Hardback
Description
Austrian Economics: The Next Generation brings together emerging and established scholars to explore the insights that can be gleaned from applying Austrian economics to a range of different topics.
Spanning a variety of related disciplines, from history to politics to public policy, this collection explores a wide range of topics and how they relate to key Austrian themes.
How has Austrian economics evolved over the past 40 years?
What is the relationship between history and economic theory?
How does the Austrian school of economics compare to other evolutionary schools of economic thought?
What can public choice theory take from the concept of emergent order?
What role does departmental culture play in enabling or deterring police misconduct?
How do the multiple forces shaping the evolution of economic inequality interact with one another?
What are the limitations of evidence-based policy? To what extent do regulatory agencies recognize key Austrian insights?
How does the platform economy affect the possibilities for regulation of traditional utilities?
What can a defense of market institutions rooted in market process theory learn from virtue ethics?
Is a classical liberal limited state best situated to cope with the darker side of human nature, or might conservatism or social democracy perform better?
This collection explores each of these topics in detail, providing fresh takes on a wide range of important topics.
Information
Format: Hardback
Pages: 208 pages
Publisher: Emerald Publishing Limited
Publication Date: 03/12/2018
Category: Business,Finance and Law
ISBN: 9781787565784
Also in the Advances in Austrian Economics series | View all