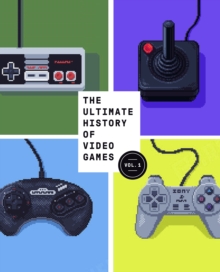 Ultimate History Video Games
Paperback
Information
Format: Paperback
Pages: 608 pages, portraits
Publisher: Random House USA Inc
Publication Date: 15/05/2001
Category: Computer games: strategy guides
ISBN: 9780761536437
Free Home Delivery
on all orders
Pick up orders
from local bookshops
Reviews
Showing 1 - 3 of 3 reviews.
Review by Gamer
16/06/2015
I am half way through, and what a GREAT READ. It is funny to read about all the back stabbing that has gone on in the industry. It is amazing how it all began and how these people got their ideas. I HIGHLY recommended this book if you are video game fanatic like me! It also includes numerous anecdotes from the people who made the games that made history--from Atari's Al Alcorn and Nolan Bushnell through to Square's Hironobu Sakaguchi and Sony's Kaz Hirai.
Review by annenoise
16/06/2015
Interesting collection of sources, but the flow between "eras" is scattered and the coverage of European and other overseas markets (outside of Japan) generally begins and ends with single sentence throwaways vaguely related to the topic at hand. Sales numbers and demographics were fascinating and were used well to make solid conclusions about the various ups and downs of the industry. Interestingly little on the actual successful game designs, though that would understandably be the first casualty of a guide on "history" rather than "mechanics" or "legacy." Nothing shockingly new - blame the internet for that - and quickly showing age during the epilogue notes, shortly before the release of Microsoft's XBox. Still, a comprehensive and factually lush resource.
Review by forkyfork
16/06/2015
I've always been fascinated with video gaming history. Although I was born in the mid 80's, consoles such as the Atari 2600 have always captured my interest even though they were "outdated" by the time I got into video games. The neat thing about gaming history is that you can tell the story from so many different angles - different companies, different time periods, etc. Although I've read many books (and articles) on video games prior to this one, there is still plenty to learn - and there was certainly information in here new to me.There were many things to enjoy in this book, but there were a few shortcomings. I loved how the book went in-depth on the history of the classic gaming era, but it seemed to go a bit soft when it came to the 8-bit and 16-bit systems. Arcade games are discussed thoroughly in the beginning of the book, but are ignored near the end. Nintendo and Atari have chapters upon chapters of history, but lesser selling systems (such as the Neo*Geo) are restricted to the footnotes. The book also tended to waste too much time discussing court cases. Now, although many of those cases were turning-points for the gaming industry, a few seemed irrelevant (e.g., Donkey Kong vs. King Kong) and were confusing and hard to follow for someone like me without a background in law.Make no mistake, the first half of this book is excellent. And in the closing paragraph the author says he intended to publish this book in 1995 or 1996. I think, given the little coverage he makes of anything past the mid-90's, his book would have fared better if released earlier. A few chapters (mainly the ones concerning the legal disputes) I could do without. The book also had a bad habit of jumping around in time. It documents the rise and fall of Atari's coin-op division, but then starts over to talk about the rise and fall of the Atari VCS.Bottom Line: If classic gaming history is your thing, there are better books to be read than this one. But if you want a broader look on video games that encompasses all generations - you may just enjoy this!