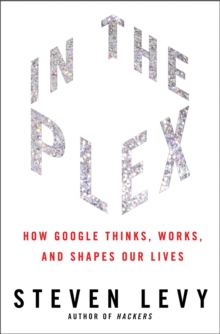 In The Plex : How Google Thinks, Works, and Shapes Our Lives
Hardback
Description
It is best known for its search engine, but as Steven Levy explains, Google's ambitions go far beyond internet searching.
It has moved into mobile phones, computer operating systems, television, and is the most powerful company in the advertising business.
Its advertising business produces revenues so substantial that the company has no difficulty funding all its other projects.
The company has an unusual corporate culture, which Levy describes.
The founders are often seen on Rollerblades, there are exercise breaks for employees and certain foods are either free or minimally priced.
There is simultaneously an atmosphere of seriousness and playfulness.
What role this corporate culture plays in the company's success is one question that In the Plex will address.
For example, every Googler has 20% time -- employees are allowed to spend 20% of their time on projects of their own devising.
No manager can prevent this. Some successful corporate businesses have come from 20% time.
Levy provides the background on Google's decision to enter the Chinese market, a decision that was controversial within the company at the time and which has recently made news as Google threatens to withdraw from China.
He explains how "cloud computing" is the next frontier for Google, and he takes the reader into product development, including products that should be reaching market around the time the book is published.
He explains what Google is doing to counter the rise of social networks such as Facebook (Google has its own social network), real-time competitors such as Twitter, and the looming risk of government regulation because of its dominance of the internet.
Free Home Delivery
on all orders
Pick up orders
from local bookshops
Reviews
Showing 1 - 5 of 14 reviews.
Previous | Next
Review by DanStratton
16/06/2015
There are few things one can have recognized just about anywhere on the planet. Coca Cola is one. Google is another. This book traces the history of the Internet search Goliath, from its beginnings as a college research project through its exit from China and leadership change earlier this year. Levy offers insight few have had before, nor been allowed to share publicly.Steven Levy is a senior writer for Wired and past technology writer for Newsweek. Over his years of covering the tech industry, he has gained the trust of some of the most tight-lipped CEOs, including Steve Jobs and, in this case, Larry Page and Sergey Brin, the whiz-kid founders of Google. Levy provides a view inside the walls of Google and explains who they are, why they do what the do and how they think.He begins by explaining the Google business model, revealing the revenue engine that allows the company to do incredible things. I was entranced by this explanation. For the first time, I understand how Google Adwords works, the heuristics behind the search engine and what makes them unique in the market. Levy beautifully explains some of the most complex Internet concepts that have eluded me for years. I can see how Google can afford to appear to give everything away. Services like Gmail, Google Docs, Blogger, Voice and Picasa, while free, all drive the same model of providing advertisers the unique ability to know a very specific audience and target the "more likely to buy" than ever before.Levy goes on to explain the many paths Google has trod, including their legendary hiring practice (always hire above the median intelligence), how engineers rule the company (salesmen struggle to survive) and how Page and Brin built a culture that thrives on innovation and special projects. While many companies may try to copy their techniques, without the unique personalities of Page and Brin, I would venture to say it won't work outside of the Googleplex.Much has been made of the "Don't be evil" mission statement of Google. Levy explains how it came to be (it wasn't intended to ever be known outside the company) and how, now that is out in public, it is used as a bludgeon anytime Google does something someone doesn't like. Who decides what is evil? That would be Sergei and Larry. After reading he book, I am more unsettled on this than before. Their lens of morality is very different than mine. They believe in a much more liberal sense of public good than I do. They don't have a problem with sacrificing personal privacy for the "greater good." They are perplexed when someone disagrees with them on issues such as Google scanning mail in order to provide more relevant ads. Resistance to scanning and indexing all the books in the world caught them completely off guard. They couldn't understands why authors didn't like the idea. Even while the lawsuits are pending, they continue to scan books at an ever increasing rate.The stories about Page and Brin have left me more than a little concerned about them at the helm of one of the world's largest and most powerful companies. They do not like oversight or people telling them what they can or cannot do. They act like spoiled children, warping morality to their own way of seeing the world. Opposing views are not to be investigated, but dismissed as naive. They keep their investors in the dark, sometimes refusing to answer questions stockholder meetings. "If they only understood…" is a phrase to commonly used.Levy offers a fair and unbiased opinion of Google's actions. He details Google's most controversial exploits, including their compliance with censorship in China, laying out the story and the facts that drove their decisions. He leaves it to the reader to decide if Google is the victim or the evil on in these cases. This unbiassed approach is very appreciated by me in today's world of tabloid exposés.Have I cancelled my gmail account? Not yet. I still use Google products because they are simple and easy to use. Will I change at some point down the road? Perhaps. I am still pondering that decision. I trust Google less after reading this fascinating book. I just don't know who else I could trust to not be evil.
Review by justinefrances
16/06/2015
Steven Levy did a phenomenal job of making a topic, that I new virtually nothing about, personally interesting and relevant. He did an excellent job painting the early atmosphere of Google the start-up company and it's gradually rise to the multi-billion dollar business giant it now is. However, there were two things that prevented this book from being worth 5 stars: 1. There are so many people in this story that it's honestly difficult to keep everybody straight. Levy did a pretty good job of reminding the reader in short blurbs about each person's previous influence in different parts of the book, but still it was a bit overwhelming. 2. Related to that, Levy chose to break his book into distinct sections dealing with specific products or fields of business ventures. This didn't particularly trouble me until I was about halfway through the book and realized that some of the things that were being discussed at the end of the book actually developed at the very beginning of Google's history. I actually felt demoralized towards the end when it became clear that I really had no solid conception of Google's history in realtime. That being said, if Levy had included a short timeline and character list somewhere in the index, I would have personally enjoyed the book more (though, going into it, I wouldn't have thought it would be necessary and therefore, possibly, didn't pay the most attention to his initial descriptions). However, like I said, I'm a complete novice in this field. It's entirely possible that readers who are already actively engaged in the tech industry might not need all the study guides I would have viewed as helpful and it certainly only marginally deflected from the great work he otherwise accomplished.Then again, maybe I should have just used Google to figure it out?
Review by co_coyote
16/06/2015
This is a fascinating look at the Google founders and how Google does business around the world. Levy clearly has unique access to Google and uses it superbly. This book, in turn, both scared the daylights out of me and reassured me that all might possibly be right with world after all. I still don't know what to think, except the times, they are a changin'. Highly recommended for anyone following the news in the computer industry. Suddenly, SO much is making sense to me!
Review by dickmanikowski
16/06/2015
In-depth portrait of the creation and evolution of Google. The author spent hundreds of hours interviewing dozens of Google employees and former employees as well as industry insiders. He details both the successful projects (Gmail, Google Maps, the incomparable search engine) and the failures.
Review by rafe
16/06/2015
I like Google because of their un-corporate approach. I love how the founders' iconoclastic urges led them to give the finger to Wall St during the IPO and to most things labelled "establishment". But there's a paradox: the founders want to do good for society; yet it is also a corporation that has become the 'Net's dominant behemoth, with investors and shareholders who demand returns. Page and Brin are brilliant engineers and visionaries. They never knew a world of work outside school and university before Google. So they created their own vision of what work and a corporation should be like: something that resembles a grad school. But do they have a rounded worldview that we can trust with that power? We are at the mercy of their sense of morality. (Then again, does any CEO who has only known corporate life and a business school education hold a worldview that is worth a damn, not pathological, or any better? Hell I prefer them to the Steves: Jobs and Ballmer)"That power" lies in the fact that they have created a gargantuan, data-driven learning machine with the computing power that dwarfs that of any other entity, masses of data and the talent and capability to crunch and mine it. Google has transformed the way that we consume and find information, yet it is simultaneously a money machine that would profit from knowing our behaviour, understanding our wants and anticipating them.This book - the best about Google that I have read - gives an unparallelled insight into the culture and the minds of the Googlers - and raises more questions about a corporation that has become a phenomenon.
Also by Steven Levy