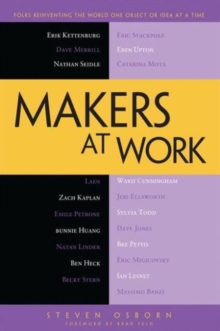 Makers at Work : Folks Reinventing the World One Object or Idea at a Time
Paperback / softback
Description
What do you get when you combine an electronics hobbyist, hacker, garage mechanic, kitchen table inventor, tinkerer, and entrepreneur?
A "maker," of course. Playful and creative, makers are-through expertise and experimentation-creating art, products, and processes that change the way we think and interact with the world. As you'll see from the 21 interviews in Makers at Work, inquisitive makers are just as apt to pick up a laser cutter or an Arduino as a wrench to fashion something new.
For example, you'll meet Jeri Ellsworth, who might provide a video lecture on magnetic logic one day and a tutorial on welding a roll bar on a stock car the next.
You'll also meet Eben Upton, who put cheap, powerful computing in the hands of everyone with the Raspberry Pi; Becky Stern, who jazzes up clothing with sensors and LEDs; and bunnie Huang, who knows the ins and outs of the Shenzhen, China, electronics parts markets as well as anyone.
As all the interviews in Makers at Work show, makers have something in common: reverence for our technical past coupled with an aversion to convention.
If they can't invent new processes or products, it's simply not worth doing. Crazy as foxes, makers-working in the spirit of Tesla, Wozniak, Edison, Gates, Musk and many others-can bring sophisticated products to the people or to the market as fast or faster than large corporations. And they are not just enabling new technologies and devices-they are changing the way these devices are funded, manufactured, assembled, and delivered. Makers at Work puts a spotlight on the maker mindset and motivation of those who are reinventing the world one object or idea at a time.
You will: Meet the individuals who define what it means to be a maker.
Learn about the tools and technologies driving the new industrial revolution.
Discover ways to scale your weekend project into a profitable business.
See how others have used to crowdfunding to make their visions a reality.
Learn how open-source hardware and software is enabling whole new categories of products by removing barriers of entry for inventors. The new masters of the "Makerverse" ask two questions: Can it be done?
Is it fun? As these interviews will show, the answer to both questions is, "Let's find out."
Information
Format: Paperback / softback
Pages: 324 pages, 1 Illustrations, black and white; XIV, 324 p. 1 illus.
Publisher: Springer-Verlag Berlin and Heidelberg GmbH & Co. K
Publication Date: 16/09/2013
Category: Information technology industries
ISBN: 9781430259923
Free Home Delivery
on all orders
Pick up orders
from local bookshops