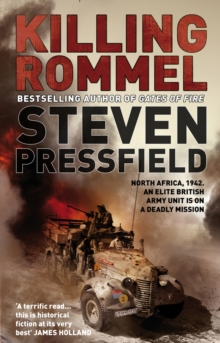 Description
Autumn,1942: Hitler's legions have swept across Europe.
Soviet Russia reels under the German onslaught while across the channel, Britain struggles on. And in North Africa, Field Marshall Erwin Rommel and his Afrika Korps have routed the 8th Army, threatening the oil fields of the Middle East.
The war hangs in the balance... Out of this, the British hatch a desperate plan - to send a small, highly mobile fighting force behind enemy lines to strike a blow that will stop Rommel's army in its tracks.
It is to be called the Long Range Desert Group and its exploits will become the stuff of legend.
Based on real events, Steven Pressfield's bold new novel brings to pulse-racing life the ingenuity and daring of this maverick commando unit - a disparate, dedicated 'band of brothers' who sacrificed so much for the sake of freedom...
Information
Format: Paperback
Pages: 416 pages, maps
Publisher: Transworld Publishers Ltd
Publication Date: 01/04/2009
ISBN: 9780553819526
Free Home Delivery
on all orders
Pick up orders
from local bookshops
Reviews
Showing 1 - 1 of 1 reviews.
Review by HenriMoreaux
16/06/2015
Written as a memoir this historical fiction novel is, well, odd. If it were non fiction the first third of the book would have been rather interesting. However, as it's fiction you find yourself reading about seemingly irrelevant childhood experiences of someone who doesn't exist and that don't particularly relate to the main thrust of the plot. The only thing that you really need to know is that he admires a bloke called Stein, has the hots for Rose whose brother is Jock - yet it takes over a hundred pages to learn this.After passing this stage of the book the war starts and you think 'hey it's a book about killing Rommel, we'll finally be on his heels now'... and you're wrong. You then spend some time in the fictitious characters life as a tank commander. Then his redeployment to the Long Range Desert Group... which does some more rudimentary missions before finally heading off to kill Rommel. Finally the Rommel chasing begins? Not really, it's only a portion of the book as well, and afterwards we deviate back to the activities of the Long Range Desert Group again.If the first part was dropped, it was just written as a fiction book and gave the impression it was about the Long Range Desert Group as opposed to specially a novel about killing Rommel it would be a great book. However, it's hard to rate it in it's format. The first half drags, it's only tangibly about Rommel, yet once it finally gets going you find yourself nearly having to brush the sand out of your hair & mouth but then it destroys the atmosphere by flicking back to the present under the guise of it's-a-published-non-fiction-memoir, which it isn't.Could have been a compelling historical fiction novel - as is, it just passes.