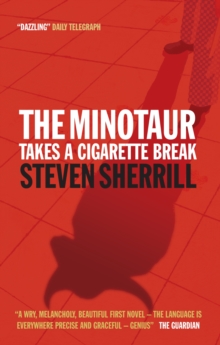 The Minotaur Takes A Cigarette Break
Paperback
Description
Five thousand years on - and the Minotaur, or M as he is known to his colleagues, is working as a line chef at Grub's Rib in Carolina, keeping to himself, keeping his horns down, trying in vain to put his past behind him.
He leads an ordered lifestyle in a shabby trailer park where he tinkers with cars, writes and re-writes to-do lists and observes the haphazard goings on around him.
Outwardly controlled, M tries to hide his emotional turmoil as he is transported deeper into the human world of deceit, confusion and need.
Information
Format: Paperback
Pages: 322 pages
Publisher: Canongate Books Ltd
Publication Date: 01/03/2004
ISBN: 9781841954875
Free Home Delivery
on all orders
Pick up orders
from local bookshops
Reviews
Showing 1 - 4 of 4 reviews.
Review by Miro
16/06/2015
This is about life on the fringes. The Minotaur "M" (5000 year old unique mythical beast!) lives in a trailer park, works as a chef, and is an awkward character who is often taken advantage of. Nevertheless, he has some skill in cooking and and car mechanics and through this and peoples kindness he can ease his loneliness and find some hope. Sherrill nicely brings out the value of tolerance, humanity and forgiveness in this wonderful book.
Review by osmium_antidote
16/06/2015
By itself, this book is just a story about an unremarkable, socially inept, down on his luck guy who finds someone to love - the catch is that he is the minotaur. It is kind of a cute premise and maybe just a metaphor for the way any unremarkable, socially inept, down on his luck guy might feel.
Review by isabelx
16/06/2015
Reprieve. Into the Minotaur's life there occasionally comes a reprieve from the inevitable loneliness, relentless and exhausting, that is endured by those who live forever. These moments of reprieve are dangerous times, though. When looking out at eternity, it's easy to lose sight of the past, to repeat the same mistakes. If not careful the Minotaur can be seduced by a turn of luck - can be blinded, so to speak. In these sweet and rare moods, he's prone to acting hastily.M is the Minotaur who lived in the labyrinth of Knossos all those years ago, who came to an arrangement with Theseus and slipped out of the back exit leaving the Greek hero to claim that he had killed him.Five thousand years later he is a chef in a grill restaurant in North Carolina, having realised a long time ago that cookery skills will always be needed and don't change too much over the centuries. In this version of our world people are aware that the old immortals are still hanging around, so although they may be shocked to see a man with a bull's head, no-one rings the newspapers and M isn't likely to end up in a freak show. Unfortunately for M, his bull's head makes him top-heavy and he is always ripping things accidentally with his horns. Speech is also hard for him, so he doesn't like talking and finds it difficult to connect with his neighbours and his colleagues at the restaurant.
Review by _________jt_________
16/06/2015
Also by Steven Sherrill