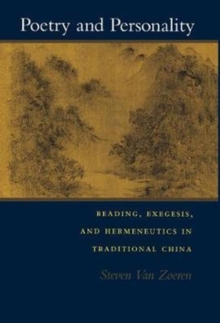 Poetry and Personality : Reading, Exegesis, and Hermeneutics in Traditional China
Hardback
Description
This is a history of the hermeneutics of China's earliest classic, the Book of Odes, which was probably compiled about the 6th century BC.
Neither a reading of the Odes as such, nor yet a history of their interpretation, this study attempts rather to trace the principles that guided the interpretation of the Odes over some two thousand years of Chinese history.
The book begins by tracing the rise and development in China of the disposition to treat certain 'classical' texts as the ultimate repositories of the culture's values and norms, a disposition that was to shape the political, social, and cultural institutions of traditional China.
A notable example was the examination system, which tested candidates for state office on their knowledge of the canon, in the process making questions concerning the interpretation of the canon prominent in public as well as in private life.
The author then describes the emergence of the distinctive and influential hermeneutic associated with the Odes. In this view, the Odes were read as the inscriptions of the aims and intentions of their authors, which were metonymically linked with the personalities of the authors and the social worlds that produced them.
Successful reading concerned less the intellectual apprehension of the messages of the Odes than it did the internalization and appropriation of the aims and intentions which informed them, a process that was to contribute to the classical Confucian project of changing both the individual and society as a whole.
In the Tang dynasty, this process led to a view of the Odes as 'super-texts' that were able to overcome some of the most intractable difficulties connected with texts, self-cultivation, and social transformation.
The Odes hermeneutic also provided the basis for much of subsequent Chinese poetics, especially that concerned with the shi lyric.
The second half of the book analyzes the role of the Odes hermeneutic in the great reformation of Confucianism and classical studies in the Song dynasty.
It was the Odes hermeneutic that provided the structure if not the language of the new general hermeneutic that emerged. Three great writers chart the course of the reformation: uyang Xiu, a key figure in the critique of the received exegetical tradition: Cheng Yi, in whose teachings a new general hermeneutic was first adumbrated; and Zhu Xi, whose 'great synthesis' gave to both the critique of the exegetical tradition and the new general hermeneutic influential formulations that dominated later Chinese history. overall, this study shows how traditional Chinese ideas about literature, language, and meaning differ from those typical of the West, while at the same time pointing out discontinuities and transformations within the Chinese tradition itself.<
Information
Format: Hardback
Pages: 344 pages
Publisher: Stanford University Press
Publication Date: 01/04/1991
ISBN: 9780804718547
Free Home Delivery
on all orders
Pick up orders
from local bookshops