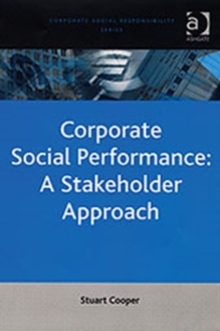 Corporate Social Performance: A Stakeholder Approach
Hardback
Description
Corporate social performance has come of age. In a business environment characterized by its perpetual state of flux, the ability to recognize and react to global forces becomes paramount.
The fallout of such rapid change - the fast-paced developments in communications and technology, the continual change to global markets, shifting demographics, the homogenization of personal values - have all contributed to the widespread new interest in issues such as ecology and environment, human rights and diversity, health and well-being, and communities. All of these issues are now potential liabilities for companies, and are very much back on the agenda for business.
Once regarded as peripheral management concerns, they are now recognized as hard to predict and hard for business to deal with when they go wrong.
This book offers an insight into how corporate social performance can be measured and why this is an important aspect of corporate social responsibility.
Using detailed case studies, it provides readers with the foundations for understanding and applying corporate social performance, providing a stakeholder framework by which corporate social performance can be measured, alongside a detailed consideration of the value of different stakeholder measures.
The book also applies this framework to new social accounting standards, enabling the reader to consider the validity and appropriateness of these standards.
The increasingly important role of the internet for corporate social reporting is also considered.
Other Formats
EPUB from £40.49
PDF from £40.49
Also by Stuart Cooper
Also in the Corporate Social Responsibility Series series | View all