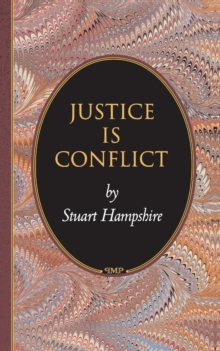 Justice Is Conflict
Paperback / softback
Description
This book, which inaugurates the Princeton Monographs in Philosophy series, starts from Plato's analogy in the Republic between conflict in the soul and conflict in the city.
Plato's solution required reason to impose agreement and harmony on the warring passions, and this search for harmony and agreement constitutes the main tradition in political philosophy up to and including contemporary liberal theory.
Hampshire undermines this tradition by developing a distinction between justice in procedures, which demands that both sides in a conflict should be heard, and justice in matters of substance, which will always be disputed.
Rationality in private thinking consists in adversary reasoning, and so it does in public affairs.
Moral conflict is eternal, and institutionalized argument is its only universally acceptable restraint and the only alternative to tyranny.
In the chapter "Against Monotheism," Hampshire argues that monotheistic beliefs are only with difficulty made compatible with pluralism in ethics. In "Conflict and Conflict Resolution," he argues that socialism, seen as the proposal of extended political solutions for natural human ills, is still a relevant, yet strongly contested, ideal.
Information
Format:Paperback / softback
Pages:120 pages
Publisher:Princeton University Press
Publication Date:05/08/2001
Category:
ISBN:9780691089744
Also in the Princeton Monographs in Philosophy series | View all