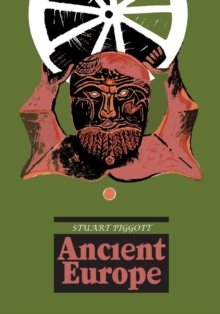 Ancient Europe
Paperback / softback
Description
This book interprets the main lines of European prehistory from the first agricultural communities in the sixth or even seventh millennium B.C. until the incorporation of much of barbarian Europe within the Roman Empire.
It traces the beginnings of animal domestication and plant cultivation in ancient Western Asia, and the transmission of these skills by movements of peoples or by assimilation, in the European continent.
The early technology of working in copper, and later in bronze, is discussed.
Metal winning and working, and trade in raw materials and finished products, brought social and political repercussions to barbarian and civilised peoples alike.The spread of the Indo-European languages is considered in its archaeological context, as is the formation of the Celtic peoples, soon to acquire iron technology and to become the main barbarian component in Europe, side-by-side with the civilised Mediterranean societies, Greek, Etruscan or Roman.
The later Celtic world of Europe and the British Isles is examined, and an attempt made to estimate the contribution of the older barbarian world to the Europe, which emerged from the ruins of the Roman Empire, geographically, the book ranges over the whole European field, from the Atlantic shores to the Urals and the Caucasus.
While it does not pretend to be a prehistory of Europe within the period chosen, the book does bring together and discuss for the first time much scattered and often little-known archaeological evidence.This book is organized in a manner that will permit it being read on two levels.
For the general non-specialist reader, the text and illustrations should give a sufficient idea of the nature of the theme and of the evidence, and of the development of the barbarian cultures side-by-side with the civilizations of antiquity, as their precursors and their subsequent counterparts.
For the archaeological student however the text is documented with rather full references and notes at the end of each chapter, and a select bibliography, which should facilitate access to the original sources.
Information
Format: Paperback / softback
Pages: 416 pages
Publisher: Taylor & Francis Inc
Publication Date: 15/07/2007
Category: Regional studies
ISBN: 9780202309392
Other Formats
EPUB from £34.19
PDF from £34.19
Free Home Delivery
on all orders
Pick up orders
from local bookshops