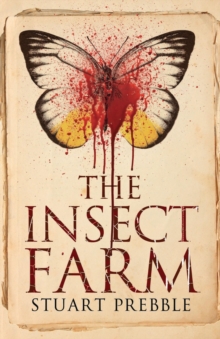 The Insect Farm
Paperback
Description
Brothers Jonathan and Roger Maguire each has an obsession.
For Jonathan, it is his beautiful and talented girlfriend Harriet.
For Roger, it is the elaborate universe he has constructed in a shed in their parents' garden, populated by millions of tiny insects. But Roger lives in an impenetrable world of his own and, after the mysterious death of their parents, his brother Jonathan is forced to give up his studies to take care of him.
This obligation forces Jonathan to live apart from Harriet -- further fuelling his already jealous nature. Their lives are abruptly shattered by a sudden and violent death, and Jonathan is drawn into a cat-and-mouse game with the police.
Does Roger know more than he is letting on? A cleverly plotted mystery with a shock ending, The Insect Farm -- Stuart Prebble's awaited new novel -- will linger long in the mind of its readers.
Information
Format: Paperback
Pages: 288 pages
Publisher: Alma Books Ltd
Publication Date: 15/03/2015
Category: Crime & mystery
ISBN: 9781846883545
Free Home Delivery
on all orders
Pick up orders
from local bookshops
Reviews
Showing 1 - 1 of 1 reviews.
Review by myownwoman
27/08/2015
"If you have been lucky enough to be able to tell the truth for most of your life, you probably cannot imagine how exhausting it is to spend forever living a lie."If this is true, then Jonathan Maguire is one tired man, and his brother, Roger, isn't exactly wide-awake either. Stuart Prebble's debut novel, The Insect Farm, is a study of these two men - of their strange, insular relationship that trumps all else and of their strange, all-consuming obsessions. For Ralph, the older of the two brothers (yet, clearly, the younger in terms of mental maturity), little else matters apart from his brother, Jonathan, and his insect farm. Roger spends his hours cultivating any number of mail-order specimens from around the world in handmade habitats that he has, surprisingly, designed on his own. For Jonathan, the younger brother entrusted with the care of his mentally challenged older brother, he has little concern for anything other than his brother, Roger, and the love of his young life, his musically-inclined, much-lusted-after,wife, Harriet. Unfortunately, Jonathan is forced to leave both Harriet and his studies at university to care for Roger upon the death of their parents in a tragic (and suspicious) house fire. With distance between the two young lovers, Jonathan's jealous nature has an opportunity to flourish and grow unbound. Will the two brothers' singular obsessions disrupt the harmony of their coexistence? I don't know what it is about mentally challenged, male characters, but they can really tug at my heart-strings like none other (think: Of Mice's Lenny and The Sound's Benji). Poor Roger - his goofy breakfast routines, his ability to deep-sleep like a child, his uncanny ability to converse almost philosophically about insects - it all just broke my heart. I found both brothers to be extremely emphatic, but Roger really spoke to my maternal instincts; I understood Jonathan's duty and need to protect him. As much as I loved Roger and Jonathan, I hated Harriet's would-be suitor Brendon Harcourt. If there is something about mentally-challenged men that makes my heart melt, there is something about red-headed men that almost instantly repulses me. (Side note: sorry (not sorry) to all the ginges out there. The only exception to my rule seems to be Prince Harry, and maybe his royal blood cancels out the otherwise icky ginger vibes. I don't know. I only speak the truth). Very slight spoiler alert: I loved how the prologue firmly set this book up as a psychological thriller with the tease of the two unidentified bodies. The rest of the book was shrouded in a haze of mystery that I could not wait to unravel.A highly-recommended read due out in less than a month, The Insect Farm hits the shelves on July 7, 2015.