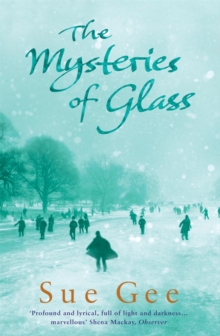 The Mysteries of Glass
Paperback
Description
It's the winter of 1860 when Richard Allen, a young curate, travels to a small hamlet outside Hereford to take up his first position. It's in this quiet place of wind and trees, birds and water that Richard is to fall passionately in love - but he cannot find fulfilment, for his lover is Susannah Beddoes, the wife of the vicar of his new parish. As Richard's feelings challenge him to his core, he develops a strange relationship with another woman, the solitary and eccentric Edith Clare. Against the backdrop of immense social and industrial change, the consequences of Richard and Susannah's affair are dramatic as they - as well as Oliver Beddoes - grapple with doubt and what it means to lose faith when the great certainties are in question. And throughout it all, the crossing-keeper's daughter Alice Birley - an observer of incidents and events she does not fully understand - has her own part to play...
Information
Format: Paperback
Pages: 352 pages
Publisher: Headline Publishing Group
Publication Date: 01/05/2005
ISBN: 9780755303106
Free Home Delivery
on all orders
Pick up orders
from local bookshops
Reviews
Showing 1 - 3 of 3 reviews.
Review by samsheep
16/06/2015
I loved it! Beautifully written - gentle, slow, full of love for the countryside and an altogether slower way of life in Victorian times. It reads like a kinder cousin of Thomas Hardy - similar in the themes and integral role of the natural world, but not so grindingly miserable and grim. The ending was a joy - I had to re-read the last 2 chapters just to savour it all over again. I thought I knew where it was all heading but she pulled it round wonderfully.
Review by CatieN
16/06/2015
I listened to this book on audio. The voice (I don't know the name, unfortunately) was perfect. I can still hear it in my head. The story was wonderful. In a nutshell, 1860s England. A young curate leaves home for the first time for a job near Herfordshire as the assistant to the pastor at the local church, and there are well-written descriptions of everyday life and also the excitement of small-town life as well as the prejudices that existed then and the class system. The book is slow-moving, but that is not a criticism at all. The slow pace allows the reader to come to fully know the characters and also to place themselves in that time period. Absolutely loved it and would definitely recommend the audio version.
Review by helen295
16/06/2015
It's the winter of 1860. Following the death of his father, the young Richard Allen takes his first position as curate in an isolated Herefordshire parish. At first Richard is eager to do well in his new post – but then he falls in love and finds that his faith is put to the test.The Mysteries of Glass was nominated for an Orange Prize back in 2005 and I can see why, because Sue Gee's writing is beautiful. I have rarely read a book with such a strong sense of time and place. The book is set in an isolated village in 19th century England and the rural Victorian setting felt entirely believable.The opening chapters perfectly evoked a winter atmosphere. Although I was reading this book in July, I could still picture the cold, wintry landscape, the snowy fields, the frozen paths leading to Richard Allen's lonely house, the skating party on the lake. Later in the book, as time passed, I could feel the temperatures rise and the seasons change.Unfortunately, I had one or two problems with this book. I found it very, very slow – I had to force myself to read at a slower pace than I normally would because I felt I was starting to skim over the words without really absorbing them. After the first few chapters, in which very little actually seemed to happen, I had to make a decision whether or not to continue reading. I was glad that I persevered with it, though. I don't like abandoning books and this one was so well written and had such a haunting, dreamlike atmosphere that I really wanted to love it.The characters were realistic and well-drawn, from Alice Birley, the crossing-keeper's solemn little girl to Edith Clare, the mysterious woman who lives in the woods. However, I thought some of the characters who were potentially the most interesting were very underused, such as Richard's strong, hot-tempered sister Verity.Another problem I had was that the religious aspects of the book were a bit too much for me. Knowing that the story was about a curate, I was prepared for this to some extent but I wasn't really expecting the church scenes to be quite so dominant. If you don't like that type of thing, you should be aware that it forms a very large part of the book and that the central theme of the story is the portrayal of a man's inner turmoil as he tries to reconcile his feelings and emotions with his faith and his belief in God.If this book sounds as if it might interest you at all, then please do give it a try as I definitely seem to be in the minority! The Mysteries of Glass wasn't a bad book by any means – it didn't appeal to me but maybe it will appeal to you.