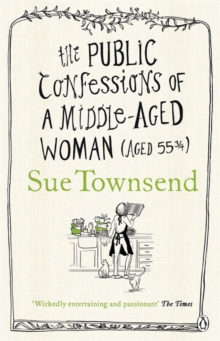 The Public Confessions of a Middle-Aged Woman
Paperback
Description
The Public Confessions of a Middle-Aged Woman (Aged 553/4) is a wonderful collection of non-fiction pieces, giving us an insight into Sue's hilarious world Sue Townsend is the much-loved comic author who brought us the bestselling Adrian Mole series Enter the world of Susan Lilian Townsend - sun-worshippers, work-shy writers, garden centre lovers and those in search of a good time are all welcome ...This sparkling collection of Sue Townsend's hilarious non-fiction covers everything from hosepipe bans to Spanish restaurants, from writer's block to slug warfare, from slob holidays to the banning of beige.
These funny, perceptive and touching pieces reveal Sue, ourselves and the nation in an extraordinary new light.
Sit back and chortle away as one of Britain's most popular and acclaimed writers takes a feather to your funny bone.
The Public Confessions of a Middle-Aged Woman (Aged 553/4) is Sue Townsend's brilliantly witty collection on non-fiction pieces. 'Anyone who loved The Secret Diary of Adrian Mole will enjoy this collection of witty and sharply observed jottings from the inimitable Sue Townsend.
Great stuff' OK!'Full of homely, hilarious asides on the absurdities of domestic existence ...What a fantastic advertisement for middle-age - it can't be bad if it's this funny' Heat 'A welcome addition to any bookshelf' Hello! 'It's as if Townsend has caught our idiosyncrasies on candid camera and is showing a rerun of all the silly clips ...the ideal dip-in-and-out book' Time Out Sue Townsend is Britain's favourite comic author.
Her hugely successful novels include eight Adrian Mole books, The Public Confessions of a Middle-Aged Woman (Aged 553/4), Number Ten, Ghost Children, The Queen and I, Queen Camilla and The Woman Who Went to Bed for a Year, all of which are highly acclaimed bestsellers.
She has also written numerous well-received plays. She lives in Leicester, where she was born and grew up.
Information
Format: Paperback
Pages: 368 pages
Publisher: Penguin Books Ltd
Publication Date: 30/08/2012
Category: Literary essays
ISBN: 9780241961766
Free Home Delivery
on all orders
Pick up orders
from local bookshops
Reviews
Showing 1 - 1 of 1 reviews.
Review by vancouverdeb
16/06/2015
Sue Townsend describes the book as representing " a sort of sanitized autobiography" , which I suppose it is. Sue was commissioned by a magazine to write about "800 wise and witty words each month" and essentially that comprises this collection of short essays. Overall it was an enjoyable read, a nice break from the " February Gloomies" that sometimes descend upon me after too many days of rain/overcast here in Vancouver. Sue writes on a variety of topics, her humourous take on purchasing her first Aga " ... it was love at first sight. The warmth, the classic lines,the strength, the fact that Agas are always hot and ready for action appealed to me. The Aga has many of the qualities that one would like , but so rarely gets, from a lover." She also writes a fair bit about her young adult children in both fun and serious ways. Other topics include travel, writing itself, her increasing loss of sight due to diabetes and many other topics. Overall, it was a good read, but not fantastic. After some 334 pages of short essays I am looking forward to book with a cohesive plot. 3. 7 stars.