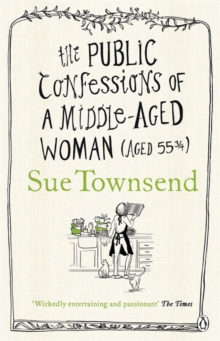 The Public Confessions of a Middle-Aged Woman
Paperback / softback
Description
Glimpse into the life of one of Britain's best-loved comic writers - Sue Townsend - with this hilarious collection of her anecdotes and musings. ___________Enter the world of Susan Lilian Townsend - all our welcome!
This sparkling collection of Sue Townsend's hilarious non-fiction covers everything from hosepipe bans to Spanish restaurants, from writer's block to slug warfare, from slob holidays to the banning of beige. These funny, perceptive and touching pieces reveal Sue, ourselves and the nation in an extraordinary new light.
Sit back and chortle away as one of Britain's most popular and acclaimed writers takes a feather to your funny bone. Witty, and laugh-out-loud funny, The Public Confessions of a Middle-Aged Woman (Aged 553/4) is essential reading for any Sue Townsend fan. _____________'Anyone who loved The Secret Diary of Adrian Mole will enjoy this collection of witty and sharply observed jottings from the inimitable Sue Townsend.
Great stuff' OK!'Full of homely, hilarious asides on the absurdities of domestic existence . . . What a fantastic advertisement for middle-age - it can't be bad if it's this funny' Heat'A welcome addition to any bookshelf' Hello!'It's as if Townsend has caught our idiosyncrasies on candid camera and is showing a rerun of all the silly clips . . . the ideal dip-in-and-out book' Time Out
Information
Format:Paperback / softback
Pages:368 pages
Publisher:Penguin Books Ltd
Publication Date:02/04/2012
Category:
ISBN:9780241961766