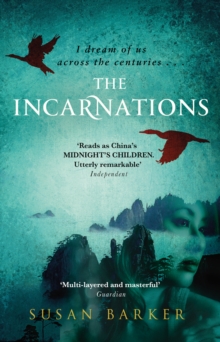 The Incarnations
Paperback / softback
Description
'Mesmerising storytelling' NEW YORK TIMESA New York Time Notable book of the yearSHORTLISTED FOR THE KIRKUS REVIEW PRIZE Beijing, 2008, the Olympics are coming, but as taxi driver Wang circles the city's congested streets, he feels barely alive.
His daily grind is suddenly interrupted when he finds a letter in the sunshade of his cab.
Someone is watching him. Someone who claims to be his soulmate and to have known him for over a thousand years. Other letters follow, taking Wang back in time: to a spirit-bride in the Tang Dynasty; to young slaves during the Mongol invasion; to concubines plotting to kill the emperor; to a kidnapping in the Opium War; and to Red Guards during the Cultural revolution. And with each letter, Wang feels the watcher in the shadows growing closer ... __________________________________PRAISE FOR SUSAN BARKER:'[A] kaleidoscopically imaginative novel...Barker stitches together an unnervingly perceptive portrait of China and of the enduring influence that its past has on the present' The New Yorker'A thrilling journey through a thousand years of obsession and betrayal, this is the most extraordinary work of imagination you'll read all year' ADAM JOHNSON, Winner of the PULITZER Prize for Fiction 'An extraordinary novel.
Erudite, intriguing and compulsively readable, Susan Barker, a born story-teller, has written one of the most remarkable novels of recent years' JOHN BOYNE'A brilliant, mind-expanding, and wildly original novel' CHRIS CLEAVE'What a ferociously talented writer Susan Barker is.
The Incarnations is a hallucinatory ride. Highly recommend' ANNA HOPE
Information
Format: Paperback / softback
Pages: 496 pages
Publisher: Transworld Publishers Ltd
Publication Date: 01/04/2015
Category: Plays, playscripts
ISBN: 9781784160005