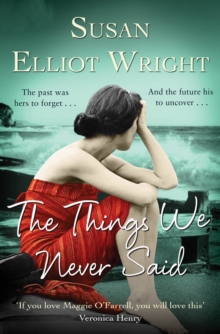 The Things We Never Said
Paperback
Description
The past shapes us all. But what happens when it hides a secret that changes everything? In 1964, Maggie wakes to find herself in a mental asylum, with no idea who she is or how she got there.
Remnants of memories swirl in her mind - a familiar song, a storm, a moment of violence.
Slowly, she begins to piece together the past and the events which brought her to this point. In the present day, Jonathan is grieving after the loss of his father.
A cold, distant man, he was not easy to love, but at least while he lived there was hope for reconciliation.
Then a detective turns up on Jonathan's doorstep to question him about crimes he believes Jonathan's father may have committed long ago... As the two stories interweave, the devastating truth long kept hidden must emerge, and both Maggie and Jonathan are forced to come to terms with the consequences of the shocking and tragic events of over forty years ago.
Information
Format: Paperback
Pages: 384 pages
Publisher: Simon & Schuster Ltd
Publication Date: 23/05/2013
ISBN: 9781471102325
Free Home Delivery
on all orders
Pick up orders
from local bookshops
Reviews
Showing 1 - 4 of 4 reviews.
Review by shelleyraec
16/06/2015
Unfolding through dual narratives, The Things We Never Said by Susan Elliot Wright, alternates between the past and present.In 1964, it takes Maggie weeks to remember the events that led to her being committed to a psychiatric hospital. Random flashes of memory, the wild winds of a hurricane...Jack...snow... cold..a crying baby...gradually resolve into a tragic history she would rather forget.In 2008, Jonathon's comfortable life is slowly falling apart. When his father passes away unexpectedly, his mother is forced to reveal a long buried secret. Lost, angry and upset, the stress threatens to compromise his marriage and his career.Gradually the link between Maggie and Jonathon reconciles, revealing the tragic history that binds them.Despite the emotive issues involved in this story, I found it fairly slow. Though the general themes interest me and overall, I found the premise enticing, for whatever the reason I had a hard time connecting with both the story and the characters.There were some moments in the plot that surprised me, though none I can mention without revealing spoilers. It has quite a busy storyline dealing with rape, family dysfunction, adoption, deceit, false accusations and mental illness which affects both timelines in different ways.I think the author handled the alternate narratives well. Though I had some sympathy for Jonathon, I also thought him weak and self involved. I didn't warm to his wife either, who used her pregnancy as an excuse to essentially abandon him to his anxieties.I could more easily empathise with Maggie's story and the way in which she was affected by what happens to her. Hers is a heartbreaking story of grief and loss.Though The Things We Never Said didn't grip me in the way I hoped, it is a poignant tale of tragedy and secrets and a strong debut from an author with promise.
Review by readingwithtea
16/06/2015
If it's not an unfaithful partner, it's a fraught pregnancy. Why, oh why, are we as readers condemned to these miserable renditions? Why can there not be a happy marriage? A simple pregnancy? Children who are well-behaved and intelligent? I suppose none of that makes for much drama, but still. These recurring slow personal tragedies exhaust me.But I'm getting ahead of myself. Maggie awakes in what is undeniably a mental health facility in the 1960s, back in the day when mental health facility was not a way in which one would have commonly heard such a place described. I didn't get to read much of Maggie's story but there is a mystery as to why she ended up there, and how she is going to be treated by the psychiatrist who seems to pride himself on pioneering methods. In our other storyline, Fiona has fallen pregnant in the probably here and now (certainly London after 1990-ish), and is delighted, and Jeremy is glad to be at the end of two years of trying, but cannot bring himself to tell his family. Fiona is not happy that he won't tell his grouchy father; and at the point at which I abandoned the novel, Jeremy's mother was on the phone.I like these historical investigative novels. I loved Russian Winter and Blackberry Winter, and I quite enjoyed Before I Met You, but I gave this 50 pages and it hadn't got going yet. I hope others out there had more success!(this review is really a whinge about how many "women's fiction" novels are about infidelity and problems with pregnancy. Why can't we have more books like Code Name Verity?)
Review by AdonisGuilfoyle
16/06/2015
Susan Elliot-Wright is one of eleven authors on the Read Regional 2014 list, promoting writers in Yorkshire and the North East. I read the synopsis for her evocative debut novel at my local library, and couldn't wait to download the Kindle version. She has a straightforward but sharply observational style of writing which really helps to carry the occasionally forced developments of the dual narratives in her story, and I found myself drawn in by the all too human characters and the twists and turns of their lives.In 1962, twenty-one year old Maggie leaves her home town in Sussex to start a new life in Sheffield (much like the author herself). She finds a job working behind the scenes in a theatre and a place to stay in the attic room of a gruff but kind-hearted landlady, but there are dark clouds on the horizon. On the night that a gale devastates Sheffield in 1962, Maggie's young life is torn apart. Forty years later, Maggie is living with the consequences, while Jonathan, a young teacher, is waiting to become a father for the first time with his wife, Fiona. When Jonathan's less than loving father dies, dark secrets are uncovered which might explain the past but also threaten to upset his plans for the future.I was gripped by the unfolding narratives, particularly Maggie's muddled grip on events, and both the early 1960s and modern day settings are described convincingly (bar an omission concerning the details on a birth certificate, which would only have let the cat out of the bag a chapter or two sooner than planned). Susan Elliot-Wright's attention to the little, everyday sights and sounds, like the rattle and hum of the fridge, really brought the story to life for me. Some of the more dramatic subplots - a schoolgirl getting hit by a car, a man admitting to being abused as a child - were unnecessary to the story, I thought, and could have upset the balance of drama and emotion, but I think the author gets the right mix in the end. A fast-flowing, heartfelt story in the style of Carol Birch or Pat Barker which engages and sticks with the reader.
Review by nicx27
16/06/2015
This is a dual time frame novel set in the 1960s and in 2008/9. Maggie is in a mental institution but has no memory of what has happened to her or why she is there. We get insights into her story alongside the story of Jonathan, a teacher in 2008 whose wife is pregnant. He has a difficult relationship with his parents and has never known why.As the story unfolds we start to learn of the links between Maggie and Jonathan in alternating chapters. This is an easy book to read, and one which I found myself getting through quite quickly. There are comparisons with Maggie O'Farrell and I would agree that the style is similar. Maggie's story reminded me of O'Farrell's The Vanishing Act of Esme Lennox.I really enjoyed this book. Parts were set in Sheffield where I'm from, so I liked that although it was not recognisable as the city apart from some very broad accents. The parts in the mental institution were sad to read, as people were not treated well in those establishments in the past. I'm not giving anything away by saying that Maggie finds herself pregnant and unmarried and I do think that people would have treated her less sympathetically in those days than is portrayed in the book, but that's my only real criticism.A good tale and I liked the way it unfolded.