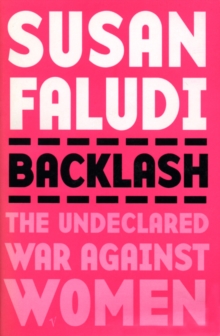 Backlash : The Undeclared War Against Women
Paperback
Description
What has made women unhappy in the last decade? Faludi writes 'is not their equality' - which they don't yet have - but the rising pressure to halt, even worse, women's quest for that equality.
Information
Format: Paperback
Pages: 608 pages
Publisher: Vintage Publishing
Publication Date: 18/03/1993
Category: Gender studies: women
ISBN: 9780099222712
Free Home Delivery
on all orders
Pick up orders
from local bookshops
Reviews
Showing 1 - 2 of 2 reviews.
Review by Cecilturtle
16/06/2015
If you can wade through the statistics, it's a good reflection of women's status in the 1980's; the perspective has changed since then.
Review by AnnaOok
16/06/2015
This is an extremely good book, well-researched and well-written. The author is a Pulitzer-winning journalist, and I have to say that it shows.My only regret was that it was written in 1991 and therefore it does not talk about more recent times... but what it says up to then is definitely worth reading. (Most of the content is about the 1980s and slightly less on the 1970s.)The book was written about America and it still focuses mostly on the United States, though this edition was made more inclusive of the rest of the English-speaking world with research about the UK especially (well integrated in the text).Part 1, "Myths and Flashbacks", should be required reading by anybody who wants to read/listen to the news media. (The author is a journalist, remember: this is not an indiscriminate attack on the media, but rather a clear and well-documented case history about how the media pick and choose their stories and statistics -- and sometimes distort them.)Part 2 is firmly media studies -- popular culture, especially TV and Hollywood, rather than news as in Part 1. Fascinating in its own right.Part 3 is about politics in the public, mainstream sense, and about some of the most prominent people in the backlash. The character studies are never ad hominem and always, if not sympathetic, at least as objective as possible. I found some of these stories truly fascinating.Part 4, "The effects on women's minds, jobs and bodies", gets down to the everyday practical effects of the backlash. The last section, following the stories of several women trying to get into blue-collar crafts jobs in the '70s and '80s, was the most harrowing part of the book to me (surprisingly enough, given that it is rather far from my own personal experience). A moderately upbeat Epilogue was a very good idea on the author's part after this section.Even after 15 years, this is a book well worth reading. And I believe that the way it is written will make it a good read even for people who disagree with the author (who is never in any way shrill or rethorical in her writing.)