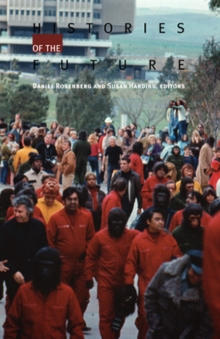 Histories of the Future
Hardback
Description
We live in a world saturated by futures. Our lives are constructed around ideas and images about the future that are as full and as flawed as our understandings of the past.
This book is a conceptual toolkit for thinking about the forms and functions that the future takes.
Exploring links between panic and nostalgia, waiting and utopia, technology and messianism, prophecy and trauma, it brings together critical meditations on the social, cultural, and intellectual forces that create narratives and practices of the future.
The prognosticators, speculators, prophets, and visionaries have their say here, but the emphasis is on small narratives and forgotten conjunctures, on the connections between expectation and experience in everyday life.In tightly linked studies, the contributors excavate forgotten and emergent futures of art, religion, technology, economics, and politics.
They trace hidden histories of science fiction, futurism, and millennialism and break down barriers between far-flung cultural spheres. From the boardrooms of Silicon Valley to the forests of Java and from the literary salons of Tokyo to the roadside cafes of the Nevada desert, the authors stitch together the disparate images and stories of futures past and present.
Histories of the Future is further punctuated by three interludes: a thought-provoking game that invites players to fashion future narratives of their own, a metafiction by renowned novelist Jonathan Lethem, and a remarkable graphic research tool: a timeline of timelines. Contributors. Sasha Archibald, Susan Harding, Jamer Hunt, Pamela Jackson, Susan Lepselter, Jonathan Lethem, Joseph Masco, Christopher Newfield, Elizabeth Pollman, Vicente Rafael, Daniel Rosenberg, Miryam Sas, Kathleen Stewart, Anna Tsing
Information
Format: Hardback
Pages: 376 pages, 136 illustrations
Publisher: Duke University Press
Publication Date: 21/07/2005
Category: Economics
ISBN: 9780822334859
Free Home Delivery
on all orders
Pick up orders
from local bookshops