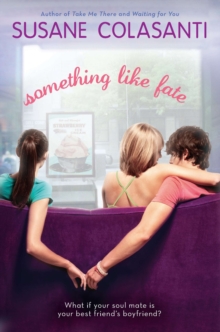 Something Like Fate
Paperback
Information
Format: Paperback
Pages: 294 pages
Publisher: Penguin Putnam Inc
Publication Date: 19/04/2011
Category: General
ISBN: 9780142418826
Free Home Delivery
on all orders
Pick up orders
from local bookshops
Reviews
Showing 1 - 5 of 5 reviews.
Review by sithereandread
16/06/2015
SOMETHING LIKE FATE, by Susan Colasanti, was a beautiful and passionate story of fate and betrayal. Lani owes Erin everything, but she believes there are stronger forces in the universe that connects her to Jason.I am a believer in fate, karma, and the pull of the Unknown. This book strengthened my faith in the universe and its cosmic process. Lani was an incredible character. She never tried to be something she wasn't even when others looked down on her unique beliefs and practices.I was immediately drawn to Lani and Jason's relationship versus Erin and Jason's. Erin was very superficial and did not have much depth as a person. Lani and Jason started out their relationship on the same psychological level with each other which I thought was enchanting. Jason was absolutely swoon-worthy. He was so sweet and kind to Lani and Erin alike, it was difficult to see who he would end up with.Colasanti depicted considerable emotion in this story. The secret that Lani and Jason held back from Erin and their peers caused much pain to everyone involved. The betrayal against her best friend kept Lani on edge at all times which created tension in her and Jason's relationship. Also, since teenagers can be so hurtful, my heart went out to Lani when her secret was revealed.I liked the cover of this book. It portrayed the deceit accurately, and made me want to find out more about these relationships and how they would turn out.Overall, this was a great book. I appreciated the passion that all the characters portrayed and also the magical element of the Unknown.
Review by Annesanse
16/06/2015
I was looking forward to reading Something Like Fate. I'd read good reviews on Amazon, and I really liked the cover, so I was really excited when the audio book became available online from my library. Sadly, it was quite a disappointment! First of all, the book was very preachy. The main character was a very "green" person, and really looked down on and was pretty rude to people who weren't. I have nothing against recycling and taking care of our world, but it was just over and over and over. She was also obsessed with horoscopes which wouldn't have been terribly annoying if she hadn't brought it up every two minutes. I hate when a book forces ideas on you. Also, the idea that Jason was Lani's "soulmate" (although, she thought he was her first of two soul mates because of what a psychic told her) just because they liked all the same random things was ridiculous and extremely boring. Like, "OMG, you like kites?!?! I like kites too!!" and "You like train tracks? I'm obsessed with train tracks!! I can even hear trains from my house!!" "No way!!" or "I've always thought of that brand of water as 'Purple' and so does Jason!! How does he know that water is 'Purple'?" and "Erin didn't know the water was 'purple', so obviously Jason's meant for me because she can't appreciate him like I can."-- I'm serious, these were the things that were actually in the book. And there were a lot more things just like that.I really don't think I've read a worse book. I kept listening, thinking that it had to get better. I don't think I'll pick up anything by Colasanti again.
Review by Ryanne.Thompson
16/06/2015
This book is about a girl who falls in love with her best friend's boyfriend. The main character's name is Lani and she has a friend named Erin. Erin just started dating Jason, who is the guy that Lani starts to like. Jason was liking Lani before he started dating Erin but he thought that Lani already had a boyfriend, so he didn't ask her out. Then Erin has to go to a camp during the summer where Jason sends her a letter telling her that he was breaking up with her. After Jason does that, he starts hanging out with Lani and they become like a couple. Erin doesn't know that they have been hanging out but when she gets back from camp she finds out and she is really mad. Erin sends an e-mail to their whole grade so that everyone thought that Lani had done something bad and that she is a boyfriend stealer. Lani and Jason start going out and everyone starts hating her and Jason. Erin made Lani promise that she wouldn't go out with Jason so then Lani tries to stay away from him. In the end Lani still ends up with Jason. When people think af girls who fall in love with their best friend's boyfriend they think they're bad people. This book is different. I liked it a lot because it was making the best freind seemed like the bad person, but not in the bad way. The thing is, Jason never really like Erin. He had liked Lani but thought she had a boyfriend who wasn't really her boyfriend but her really good friend who didn't even like girls. Even though the situation was bad in the beginning, Lani and Erin become friends again and Lani gets to be with Jason.
Review by br13almu
16/06/2015
It's almost their senior year and Lani and Erin cannot wait, once they're seniors they can drive to and from school and they don't have to eat the mysterious lunch food. But, they still have to wait the last month or so of their junior year and the summer. During the last month of their junior year, Erin starts to like Jason, soon that "like" turns to love and Erin and Jason are going out. But problems start to develop, Erin is going to camp for two months in Vermont and Jason starts to hang out with Lani. He starts asking himself if he really likes Erin. With these problems, their relationship is challenged. That is when Jason cheats on Erin and starts seeing Lani.After Erin has been at camp for less than a week, Jason realizes Erin isn't the one for him, but she's at camp so he has to break up with her through letters. Now that Jason and Erin aren't together Lani feels it's okay to date him. But will Erin see it Lanis way? Will Erin want revenge? But the biggest question is will they still be friends? Something Like Fate is very suspenseful and a big cliffhanger. The author, Susan C., does a very good job describing and showing that life really does happen because of fate or that everything happens for a reason. She also does a good job showing that problems always have a way to work themselves out and become right. Although the author does many things right the ending is not very strong. I disliked how she wrote about how Lani and Erin were so excited about senior year and yet she only wrote about half their year. Doesn't all senior fun happen at the end of the year?Something Like Fate was a great read and I wish there was a sequel.
Review by jessicaschmidt917
16/06/2015
High school junior Lani has always been able to predict her life path through horoscopes, but when she finds herself irrevocably drawn to Jason, her best friend Erin's new boyfriend, and realizes that he feels the same way, her life spins out of control and into the "Unknown." Jason makes a clean break from Erin over the summer while Erin's away at camp, but when she returns and their senior year begins, Erin goes out of her way to make Lani's life miserable by getting the whole class to excommunicate her. The beginning of the book feels a bit like a made-for-TV teen flick, but the ensuing bullying and a subplot involving a gay classmate and his abusive father quickly work to ground the storyline. Lani, Erin, and Jason never get into any "real" trouble, but the tension Lani feels amongst her classmates will feel very real to readers. A simple yet descriptive writing style and shorter chapters combined with the relatable, intense plot will engage struggling readers. Recommended for grades 8-10.