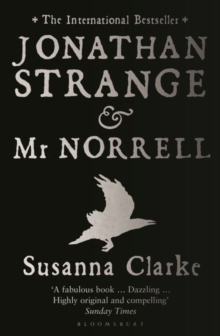 Jonathan Strange and Mr. Norrell
Paperback
Description
Two magicians shall appear in England. The first shall fear me; the second shall long to behold me The year is 1806.
England is beleaguered by the long war with Napoleon, and centuries have passed since practical magicians faded into the nation's past.
But scholars of this glorious history discover that one remains: the reclusive Mr Norrell whose displays of magic send a thrill through the country.
Proceeding to London, he raises a beautiful woman from the dead and summons an army of ghostly ships to terrify the French.
Yet the cautious, fussy Norrell is challenged by the emergence of another magician: the brilliant novice Jonathan Strange.
Young, handsome and daring, Strange is the very opposite of Norrell.
So begins a dangerous battle between these two great men which overwhelms the one between England and France. And their own obsessions and secret dabblings with the dark arts are going to cause more trouble than they can imagine.
Information
Format: Paperback
Pages: 1024 pages
Publisher: Bloomsbury Publishing PLC
Publication Date: 01/09/2005
ISBN: 9780747579885
Other Formats
Paperback from £7.69
EPUB from £7.19
Free Home Delivery
on all orders
Pick up orders
from local bookshops
Reviews
Showing 1 - 5 of 31 reviews.
Previous | Next
Review by tikitu-reviews
16/06/2015
Exquisite. Read it. That's all.All right, that's not quite all. Let me sing some praises and answer some criticisms. First off, the novel is laugh-out-loud funny. If you read the first chapter and you don't agree, then you probably won't agree with anything else I have to say about it either. (Perhaps you're of more refined breeding than I, and would prefer to titter gently behind your hand or simply smile in your beard. I guffawed.)What Clarke has done is mixed the light, mannered and slightly ironic style of a drawing-room romance with the magic and majesty of high fantasy, with a side order of academic footnotes. One of the delightful aspects of the story is watching the characters stroll through perilous landscapes, narrowly escape death and damnation, and converse with beings of terrible power, all totally unaware of how thin the shell of gentility that supports them is. (The second half of the book, starting from the battle of Waterloo, is largely taken up with the cracking of this shell, but it's notable how unaffected the major characters remain, even after all they go through.)If I have a complaint, it is only that Clarke has taken over some conventions of the drawing-room romance a little too enthusiastically. I have in mind in particular the coincidental keeping apart of characters who separately see only pieces of some central mystery, and who together could most certainly solve it, if they might only know to speak their minds to each other. Conventional though this is (almost a required feature, in fact -- think of lovers quarrels over imagined or falsified misdeeds) it's intensely frustrating for a reader who has all the pieces of the puzzle, and who moreover knows that the <i>characters</i>, between them, know everything they need to, but who sees one kept silent by a promise, another by mistrust, a third by forgetfulness, and so on.This is, however, a minor quibble (as is the observation that the period spellings --"shew", "chuse"-- are perhaps a little affected). I've read this novel four times since I bought it early this year, and I still find new things to enjoy. It's a triumph.
Review by eoinpurcell
16/06/2015
Truly awful book. The humour never sustains the overly long plot loops, the attempts to write in a lovely style succeed only in boring the reader. It is as if the author wanted more to write an beautiful book than a readable one. The sad part is that I really should have loved it. All the elements suggested a rewarding read except the actual reading. I was advised to stop reading by someone I respected and thankfully took their advice.
Review by susan139
16/06/2015
The story of two magicians, with lots of twists and turns. Written in a non fiction format, enchanting for a work of fiction.
Review by ben_a
16/06/2015
This is an exceptionally entertaining book -- at 900+ pages it flies by. And in the "man with the thistledown hair" it contains a villain for the ages. Highly recommended.
Review by michaeldwebb
16/06/2015
This should have been dreadful - a story about magic in a faux Victorian style, but it wasn't! Somehow you manage to complete suspend belief. Brilliant and original.